House D is located in Praia Alegre Beach, Penha city, Santa Catarina State, Brazil.
The order was placed to our office from the desire of the owners to build their beach house. Despite the short house area of 258 sqm, the family needed 7 bedrooms. Among them one should be a suite and one room located on the ground floor. The other 5 rooms and the suite are located on the upper floor. They are served by three cantilevered balconies.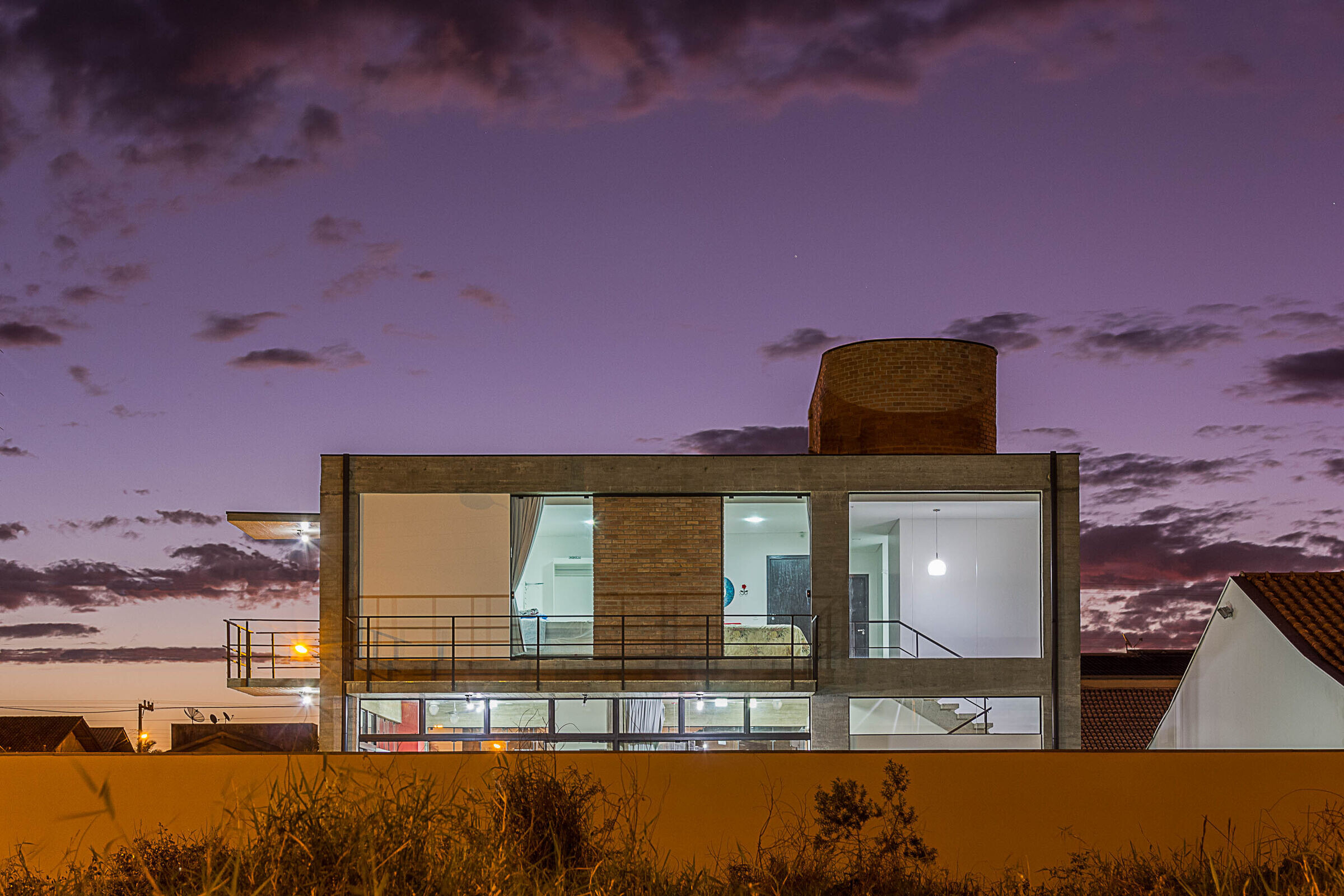 In addition to one bedroom, the ground floor houses the social sector, which is divided into support and service areas.
The house is functionally and formally organized, based on the solution of its own structure. The reinforced concrete structure was chosen, in view of its attractive cost and the knowledge/experience of local builders.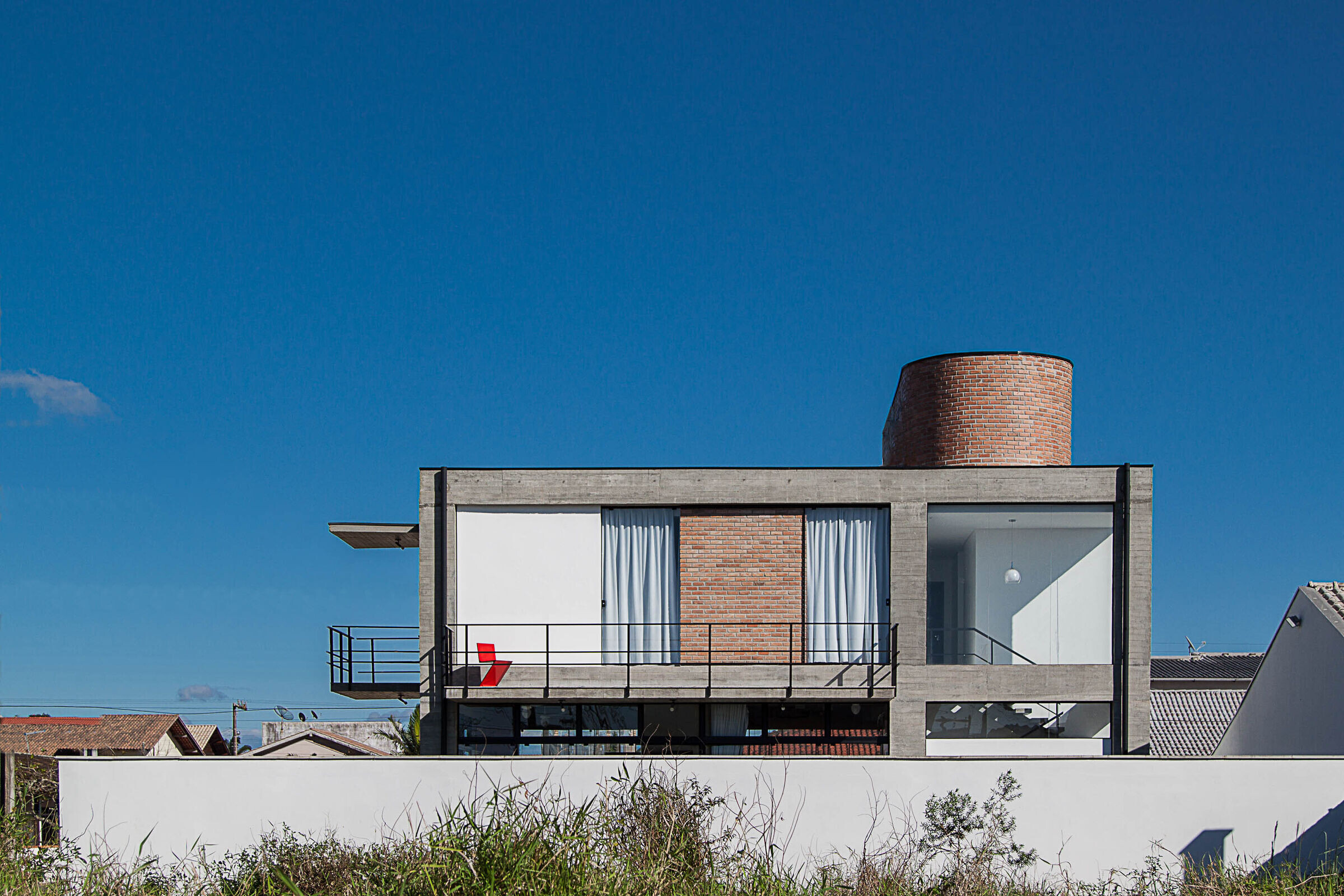 The structure consists of beams and pillars of 0.3m x 0.6m. The beams are 0.6m high. When viewed from outside, both floors have the same 2,70m height.
The structure is emphasized by the 15 cm locks, which besides highlighting the design of the supporting structure also protects closings in masonry. It is sometimes in white color, others in apparent solid brick, others in tempered glass. The glass panels go from one beam to the other and are also 2.70m high. The ceiling slab of the ground floor as well as the slabs of the balconies were left in exposed concrete texture. Above such a concrete structure, a curved volume in brick contains machinery and water tanks.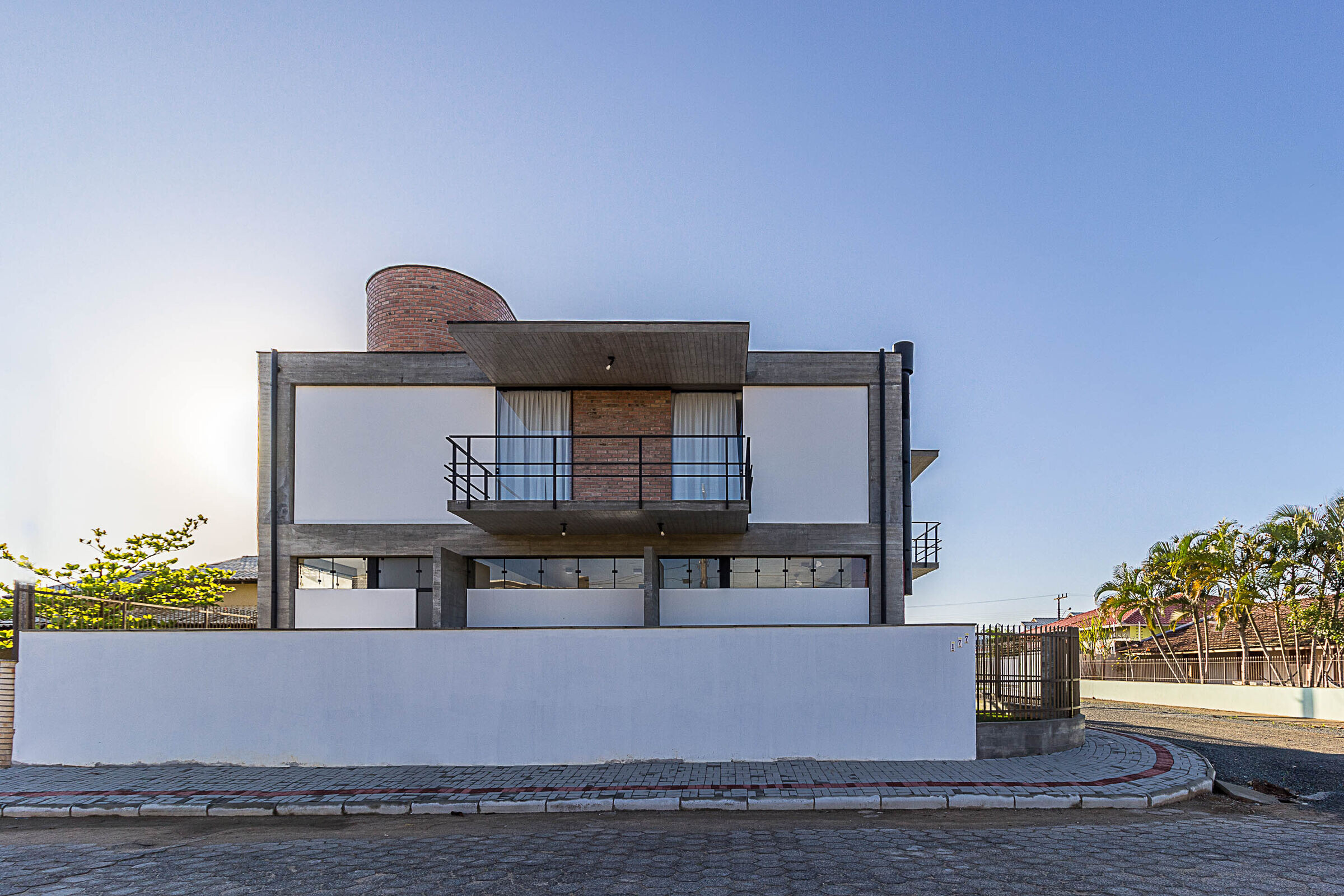 On the house´s west facade two 2,70m high concrete slabs serve as louvers and protect some openings from direct sunlight.
On the junction of exposed concrete pillar and the white masonry, a black aluminum 1,5cm depth profile was installed aiming at showing independence of materials and, between the structure and the closing.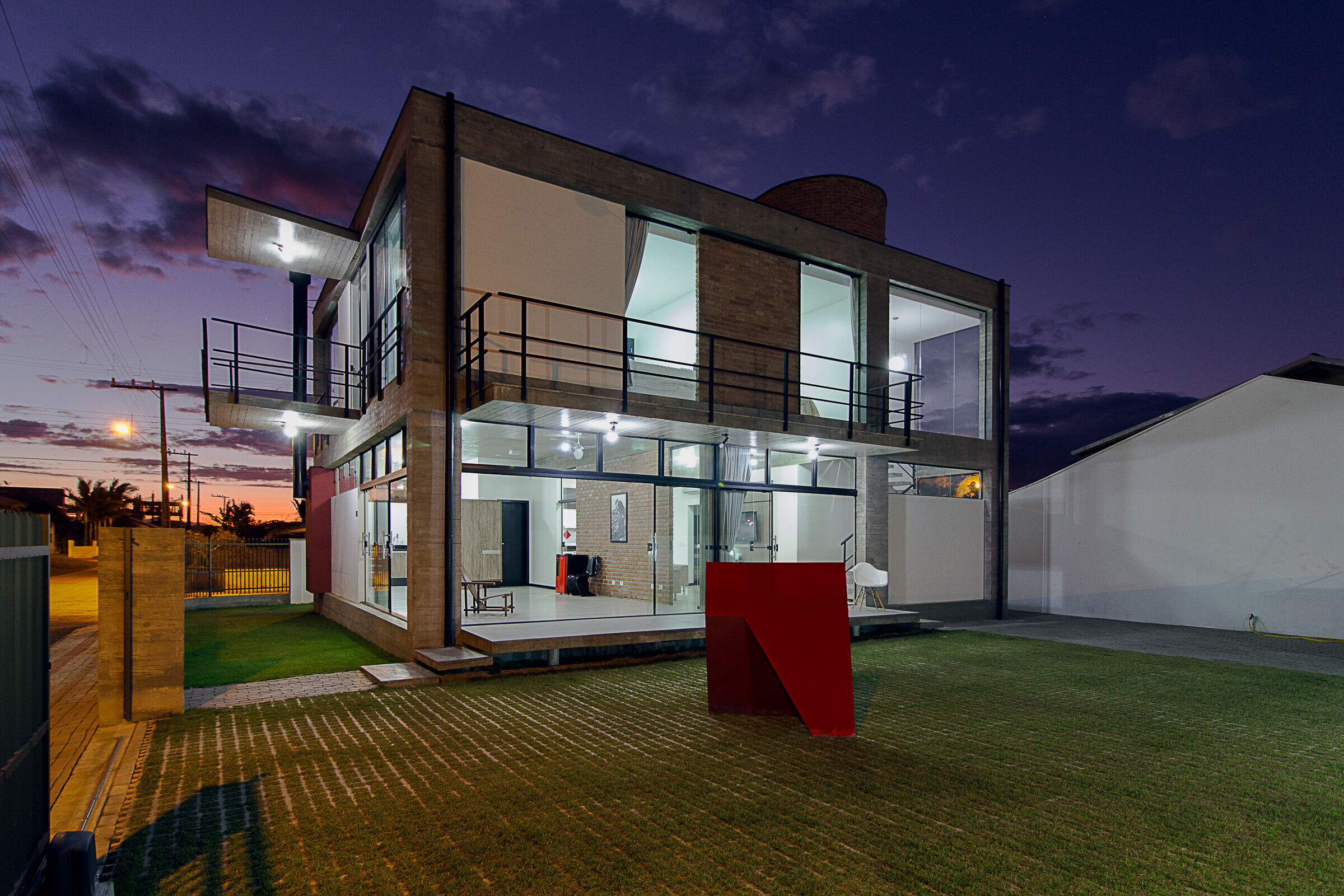 The rainwater drainage is external and the piping was built similar to chimneys in black aluminum. The final result was black tubes of the same house height.
The shape is defined by adopting a language and a universal abstract structure, recognizable by everyone. The pillars and beams in exposed concrete define the structure of a "hollow box", while the closings are flatconsisting of various materials and textures.
Team:
Structural Project – Eng. Silvio Garcia
Eletrick and Hydraulic Project – Eng. Carolina Contin
Interns – Joana Bittencourt, Nathã Dalmutt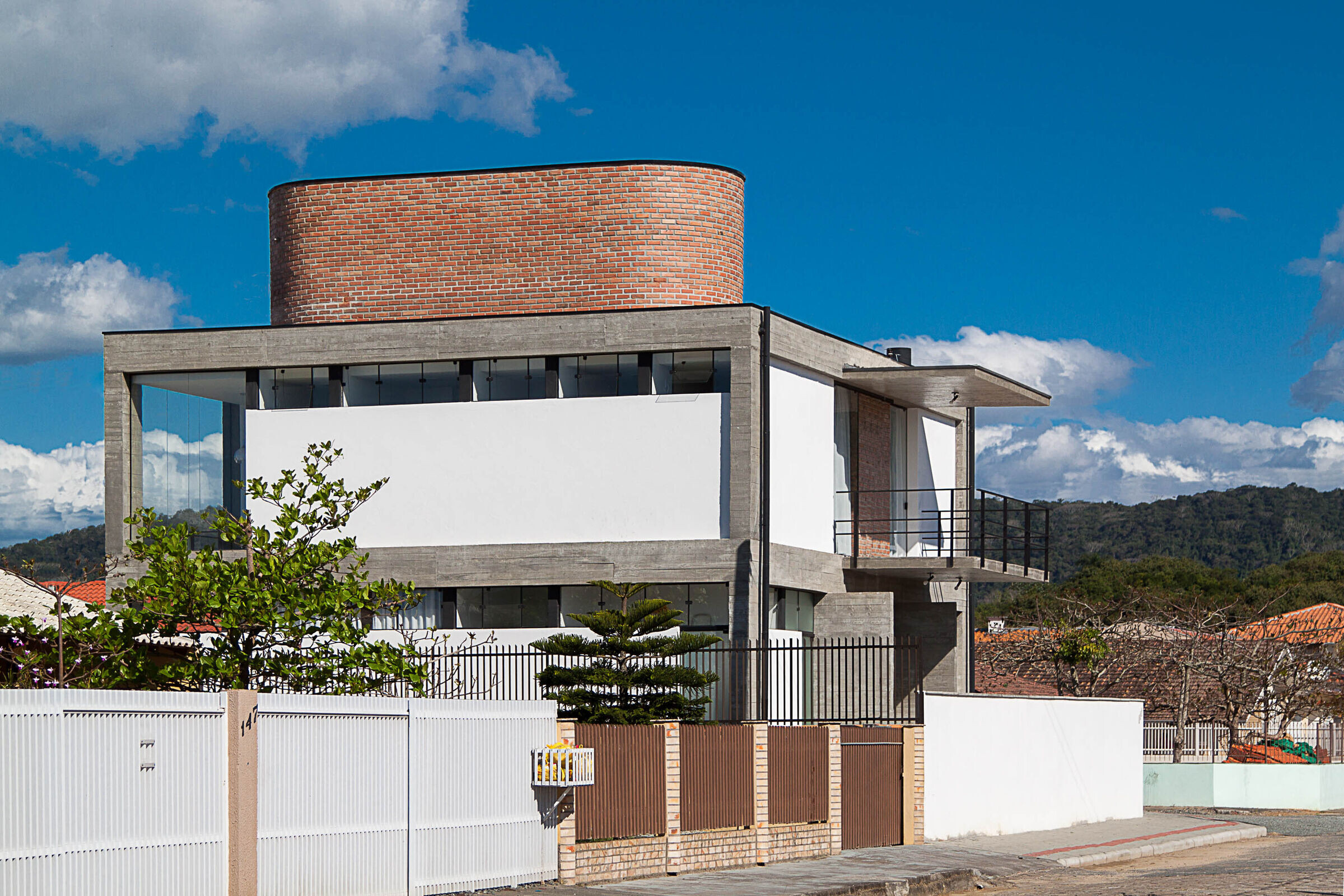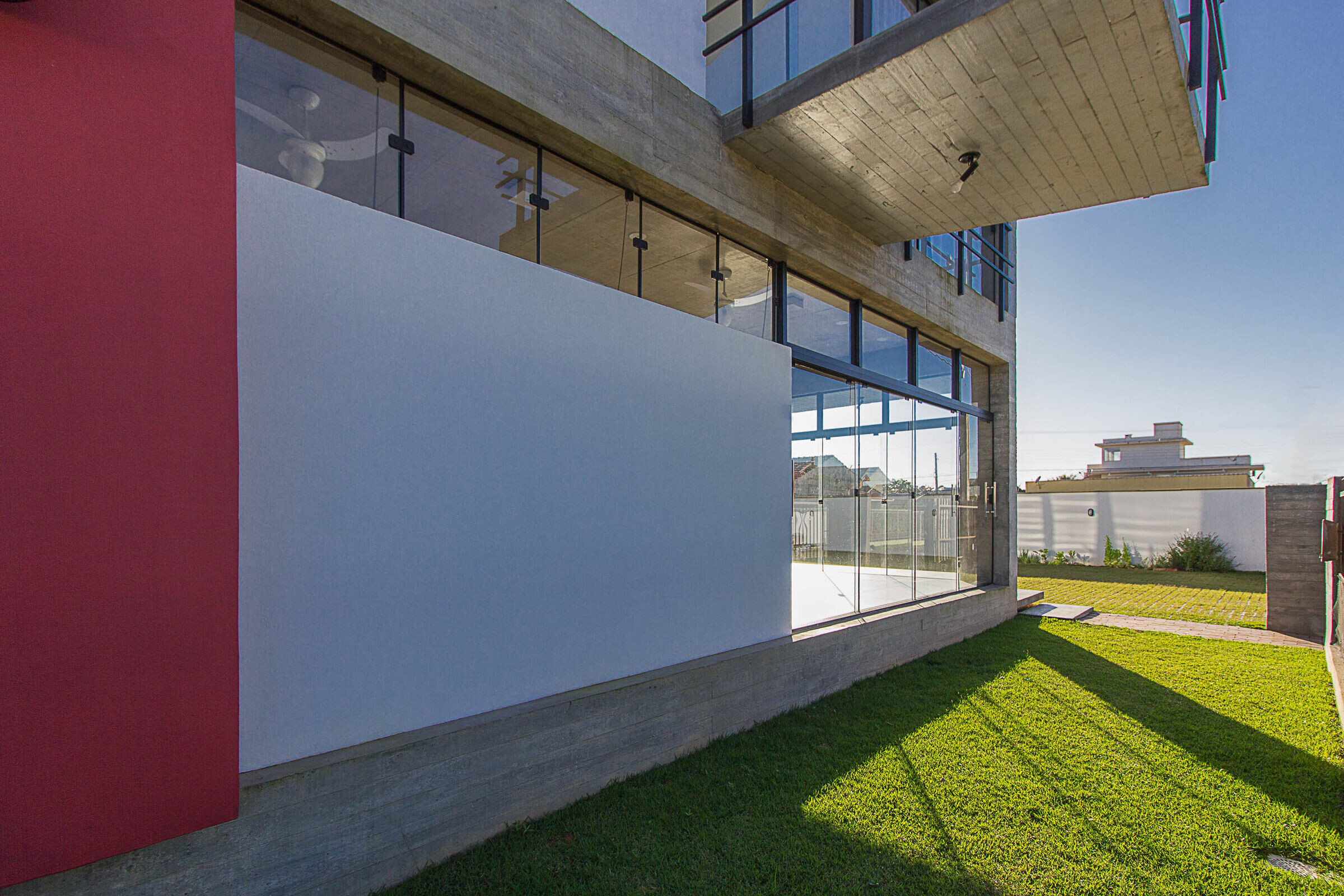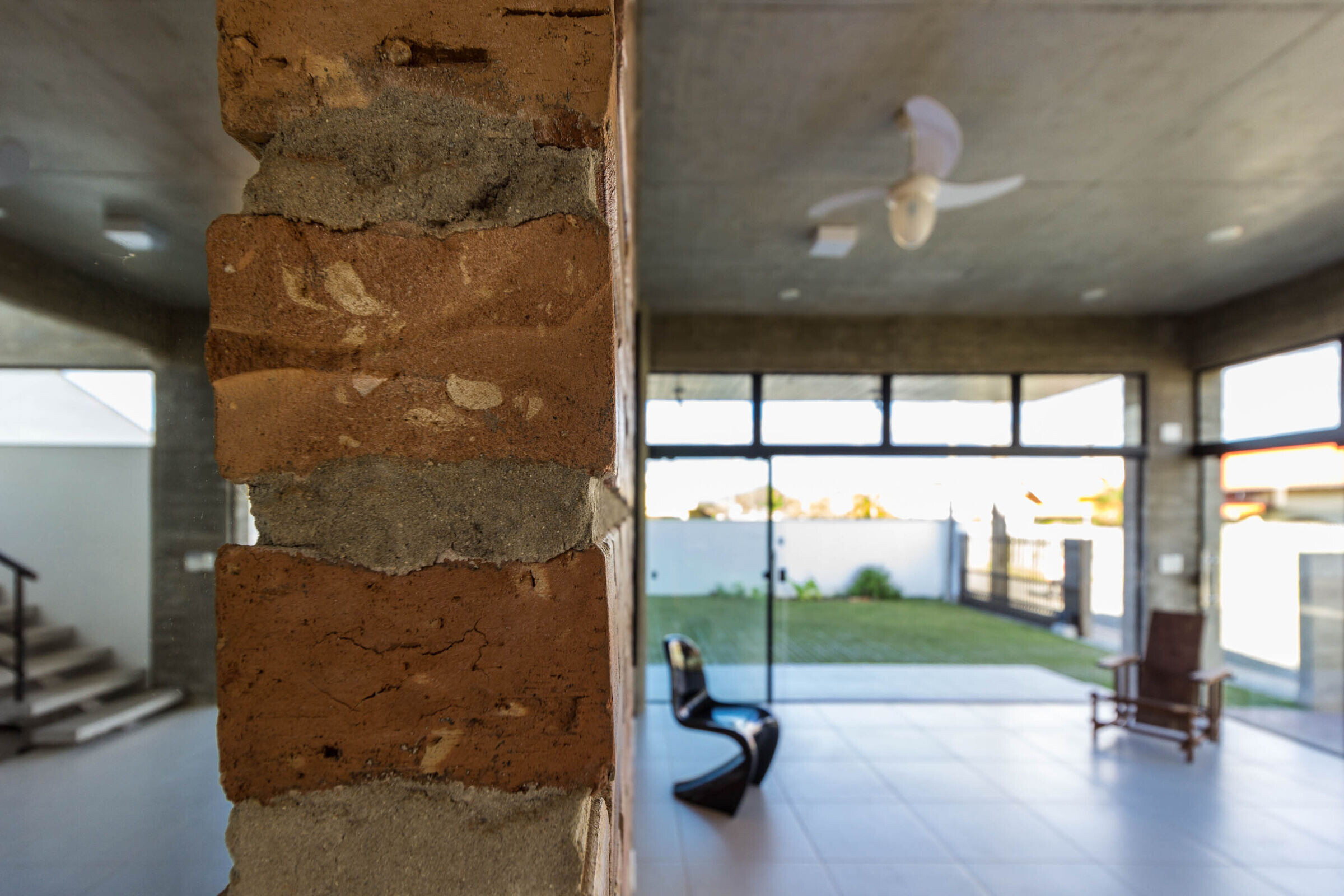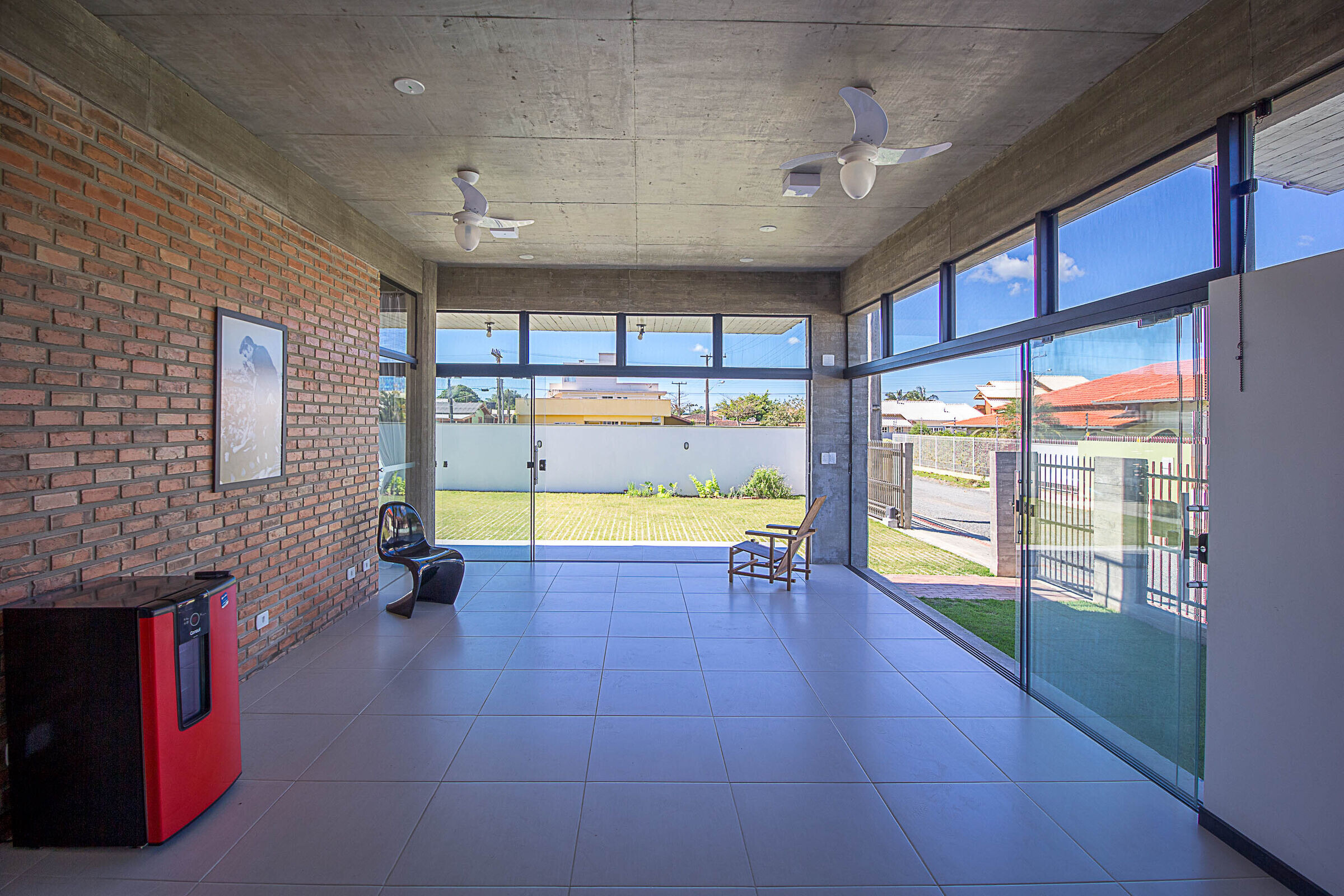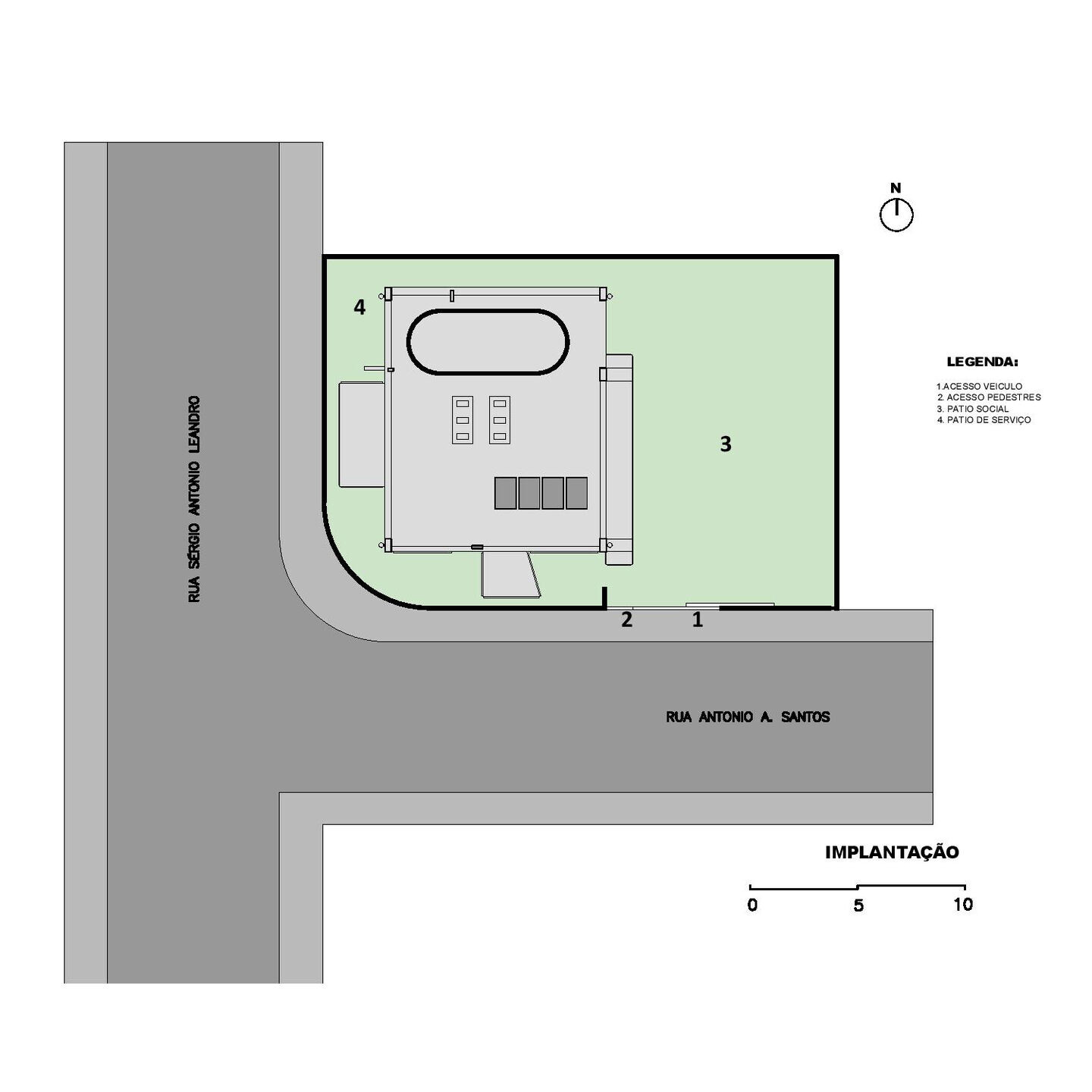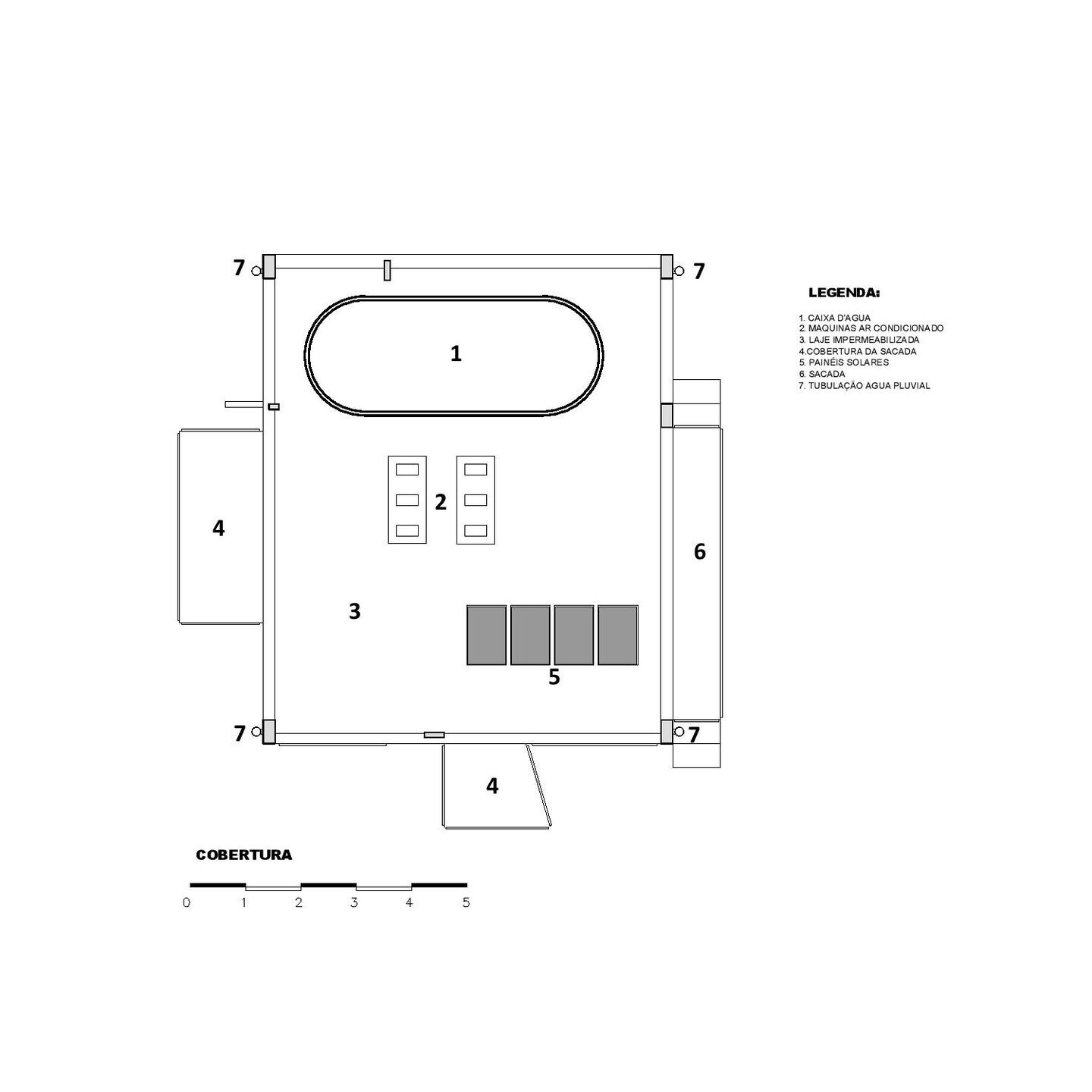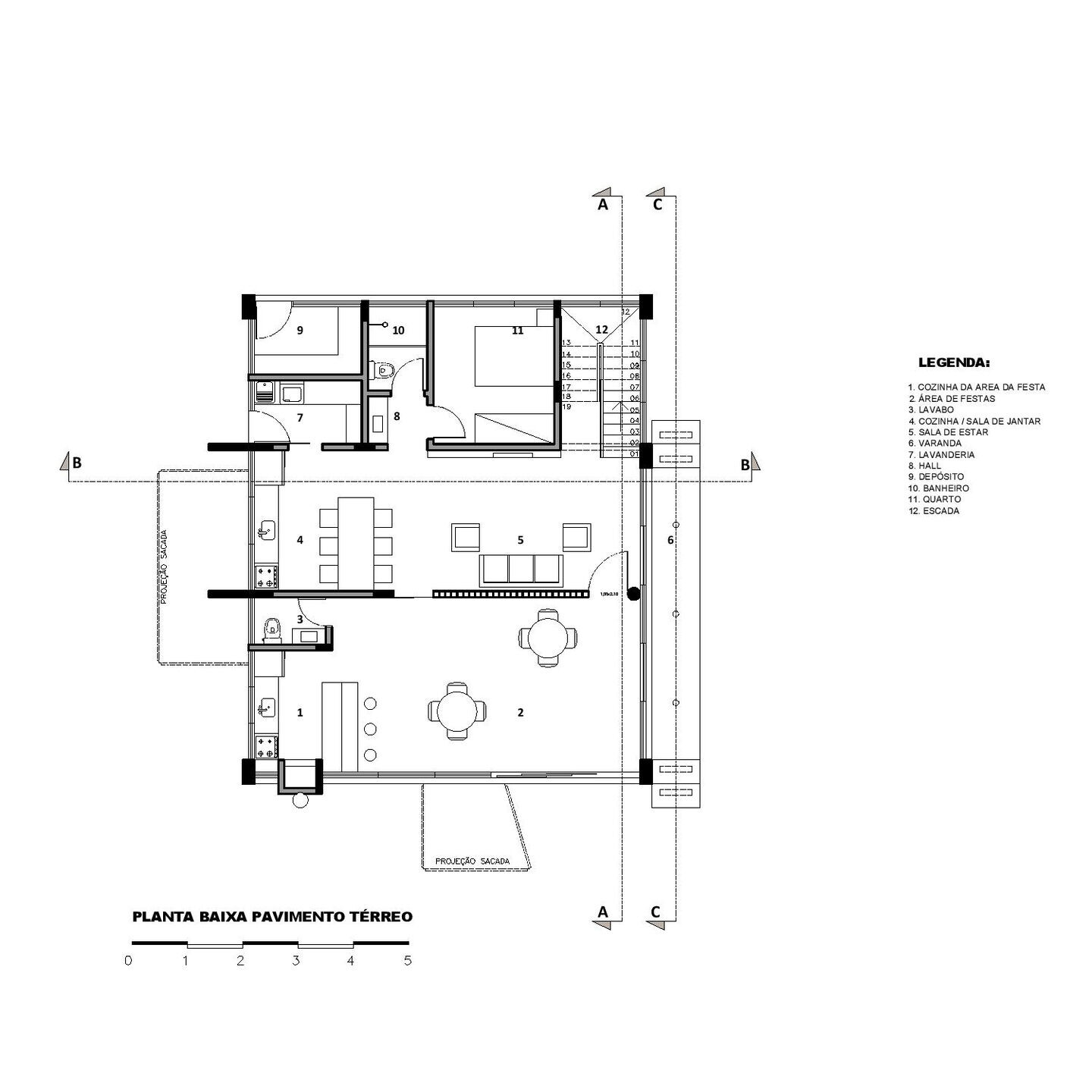 Material Used:
1. Casings: Vidraçaria Gaspar
2. Aluminium safety rail: Serralheria Escadas Norte Sul
3. Gutters and flashings: Camilo Calhas
4. Aluminium Chimney and Tubes: Maneca Alumínios
5. Marble Finishes: Planeta Mármore
6. Concrete: Casetex Concreto
7. Apparent bricks: Cerâmica Valdir Dagnoni
8. Impermea bilización: M2 Impermea bilizações
9. Finishing in porcelanato (floor): Cerâmicas Eliane
10. Wooden doors: Madeireira Becker