Connecting a harbourside apartment to its natural outlook and views, this project strategically reconfigures an outdated plan. The apartment, originally built in the 1980s, suffered from a convoluted layout -whilst generous in area, inefficient planning resulted in wasted space and a disconnection from the natural outlook. The clients, a retiring couple, wanted a home that reflected a sense of calm, with generous natural light and simple materials.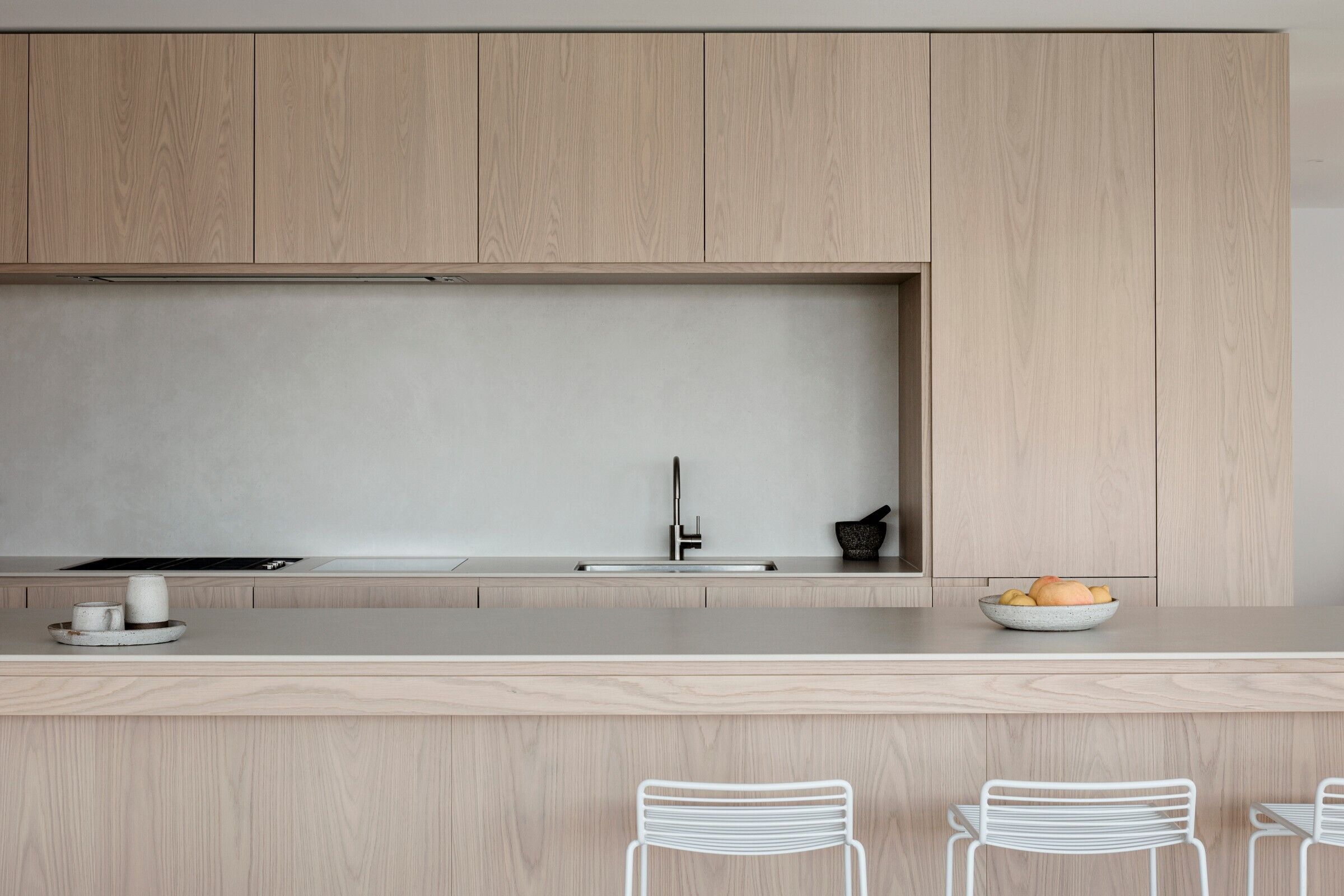 Strategic reconfiguration opens up the floor plan - uniting kitchen, living and sleeping spaces with a sense of light, openness and views deep within the interior. A key move was to demolish the load-bearing wall which separated the kitchen from the natural outlook. Rather than replacing it with one large column, structural support is spread across five slender steel columns, clad in American Oak veneer and concealed as part of a timber screen. Realised through close collaboration with engineers, builder and joiner, the screen achieves required fire safety measures whilst allowing light and views through.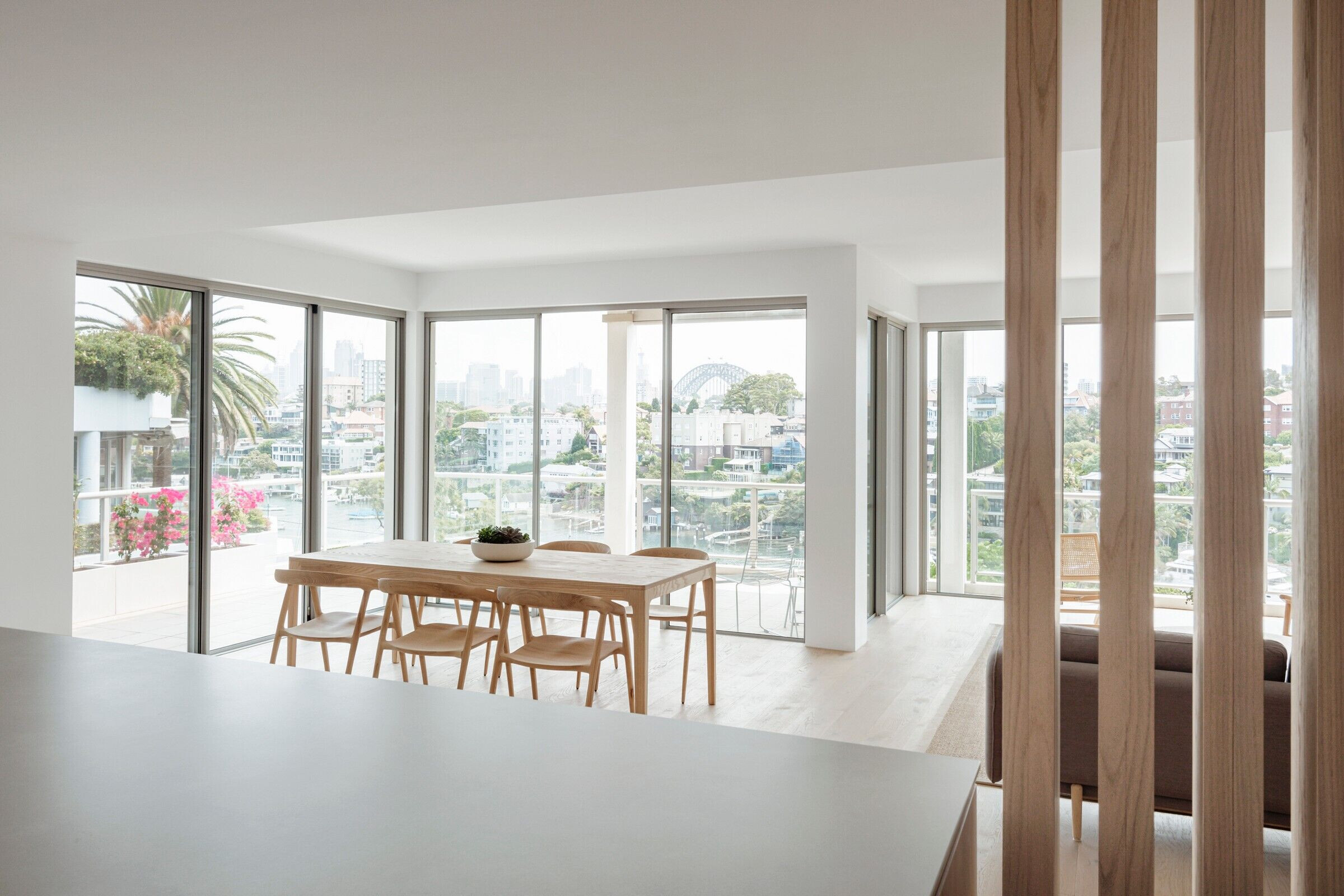 The main bedroom was completely cut off from the living spaces, at the end of a convoluted circulation route. Strategic demolition connects these spaces, simplifying the layout to establish a single, highly social, circulation loop – one clear path around which daily life occurs. This loop manifests as a central joinery core – a timber-clad volume that houses and conceals the mechanisms of modern living within – kitchen, powder room, ensuite, walk-in robe, storage.
A simple and natural palette of pale oak, porcelain and aged bronze is set against neutral white surfaces, reflecting a soft light within spaces. Crisp details become an exercise in the reduction of visual elements, composing aninterior of calm and tranquility. This approach extends to the bathrooms; where large-format porcelain slabs form a seamless matte finish to walls, reducing material joints. This simplicity of elements and flush surfaces enhances the awareness of natural phenomena; with the subtle changing of light over time invoking refuge and calm.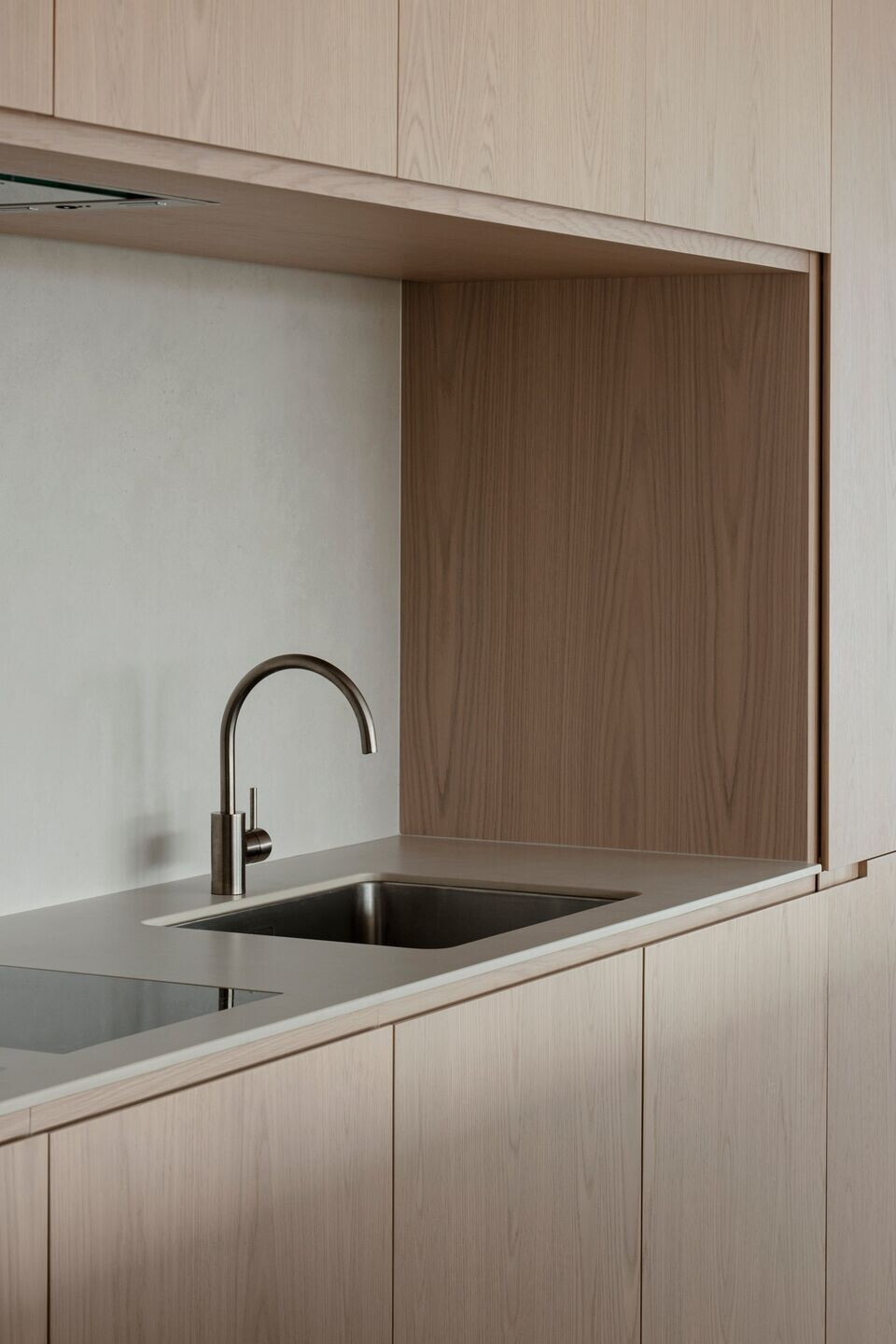 The apartment serves as urban retreat and social family home for a retiring couple, with careful detailing incorporating practical necessities with simplicity and refinement. Hidden storage conceals oven, microwave and other kitchen appliances within the timber core, whilst marginal spaces are reconfigured as bookshelves, pantry and vanities. With social sustainability in mind, the design integrates the possibility of future wheelchair access, and the simplified circulation loop responds to a wish for flexibility, with concealed sliding doors allowing for socialising or privacy depending on mood.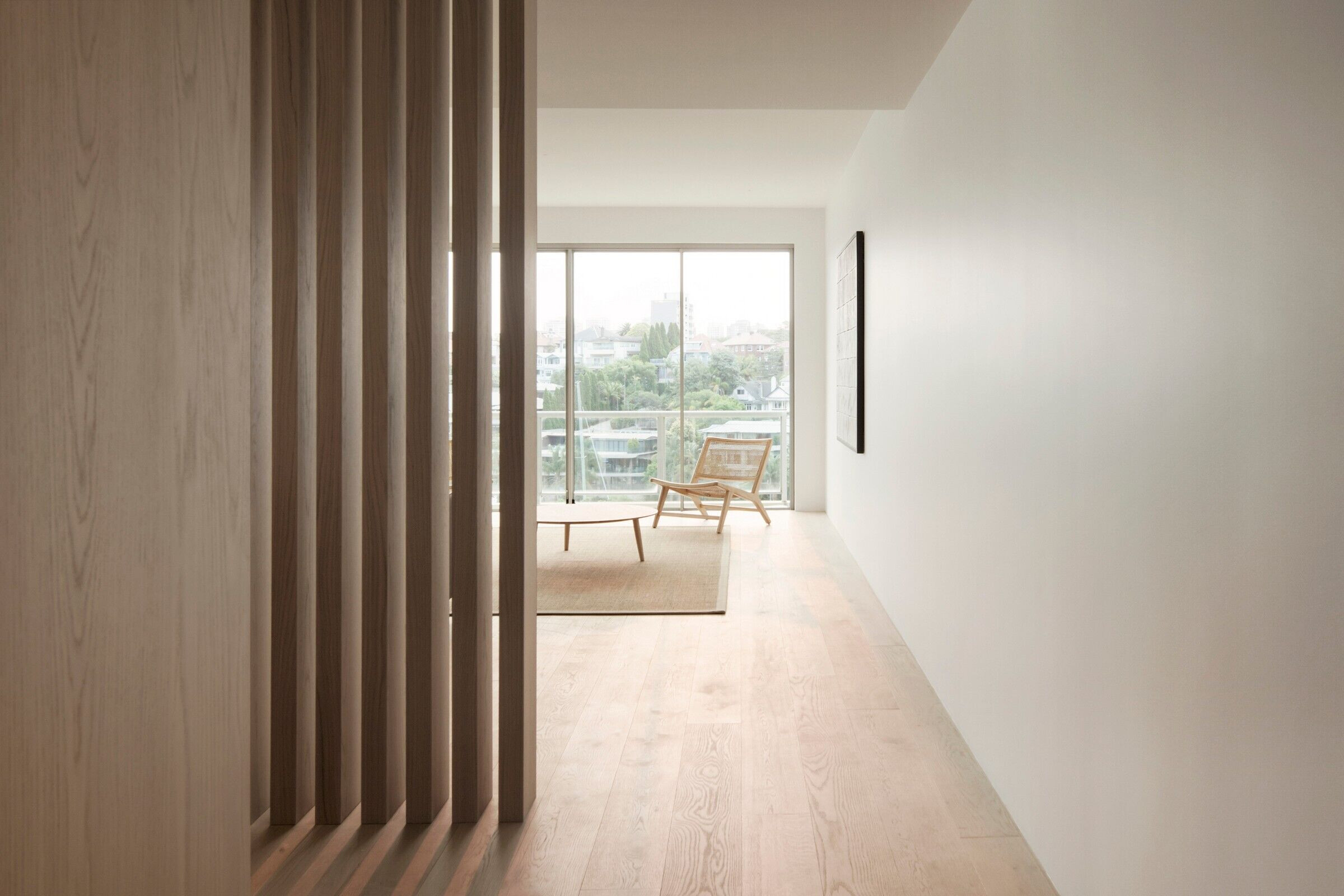 Selected furniture pieces – bed, bedsides and coffee table - were designed by studioplusthreein keeping with the material palette, and custom-made by a local furniture maker. From the macro to the micro, strategic moves combine with refined details to create a light-filled, tranquil home against the backdrop of the city.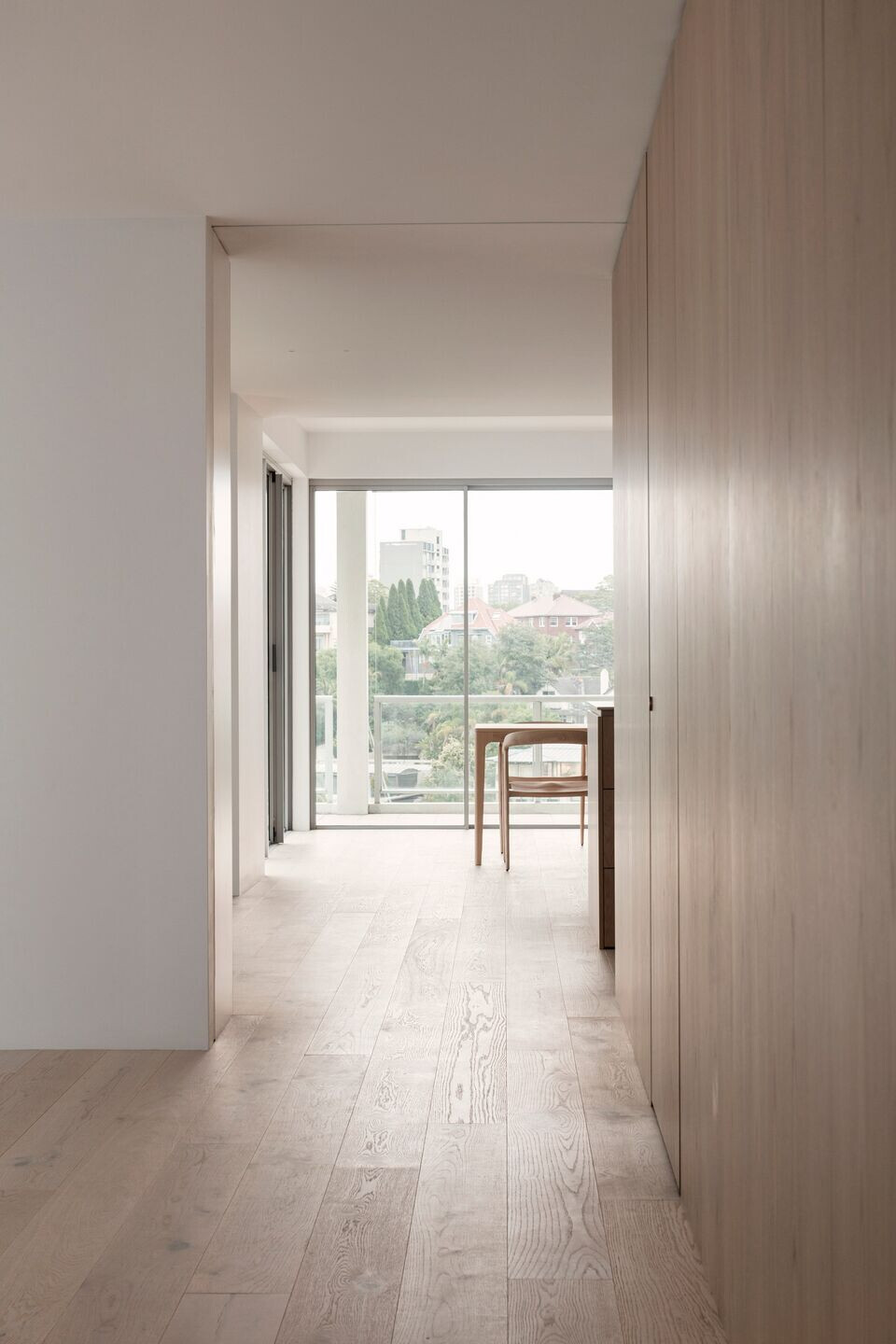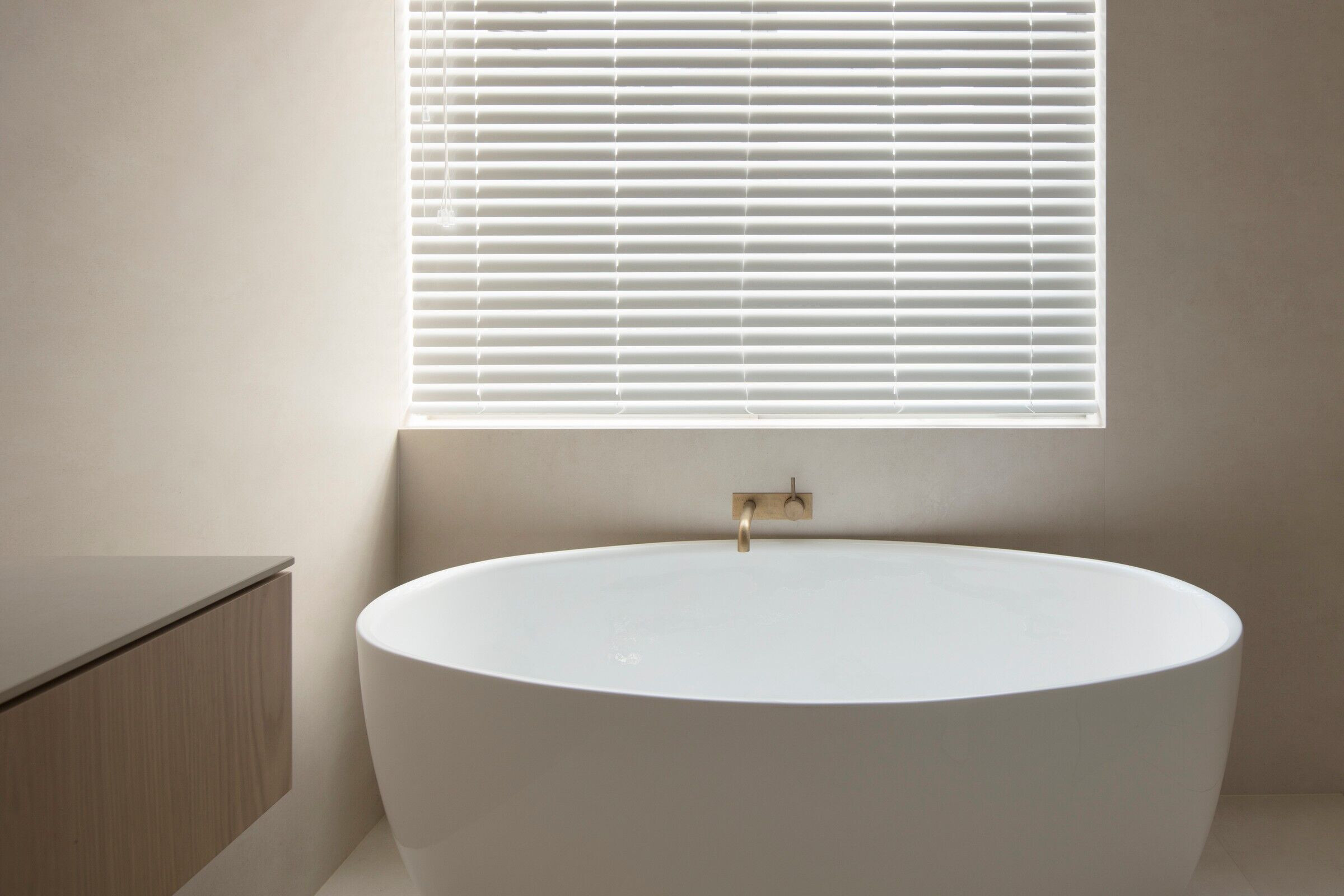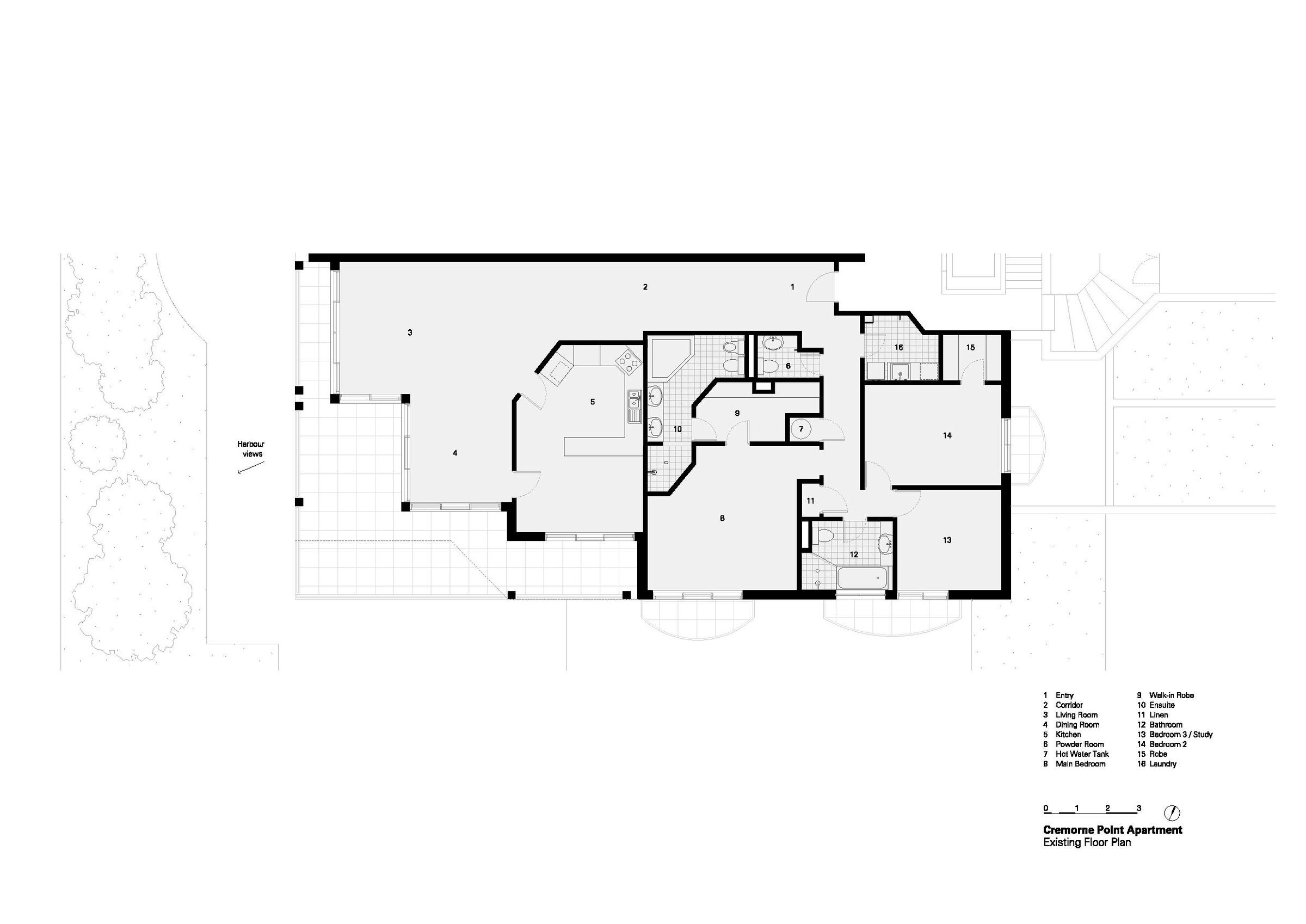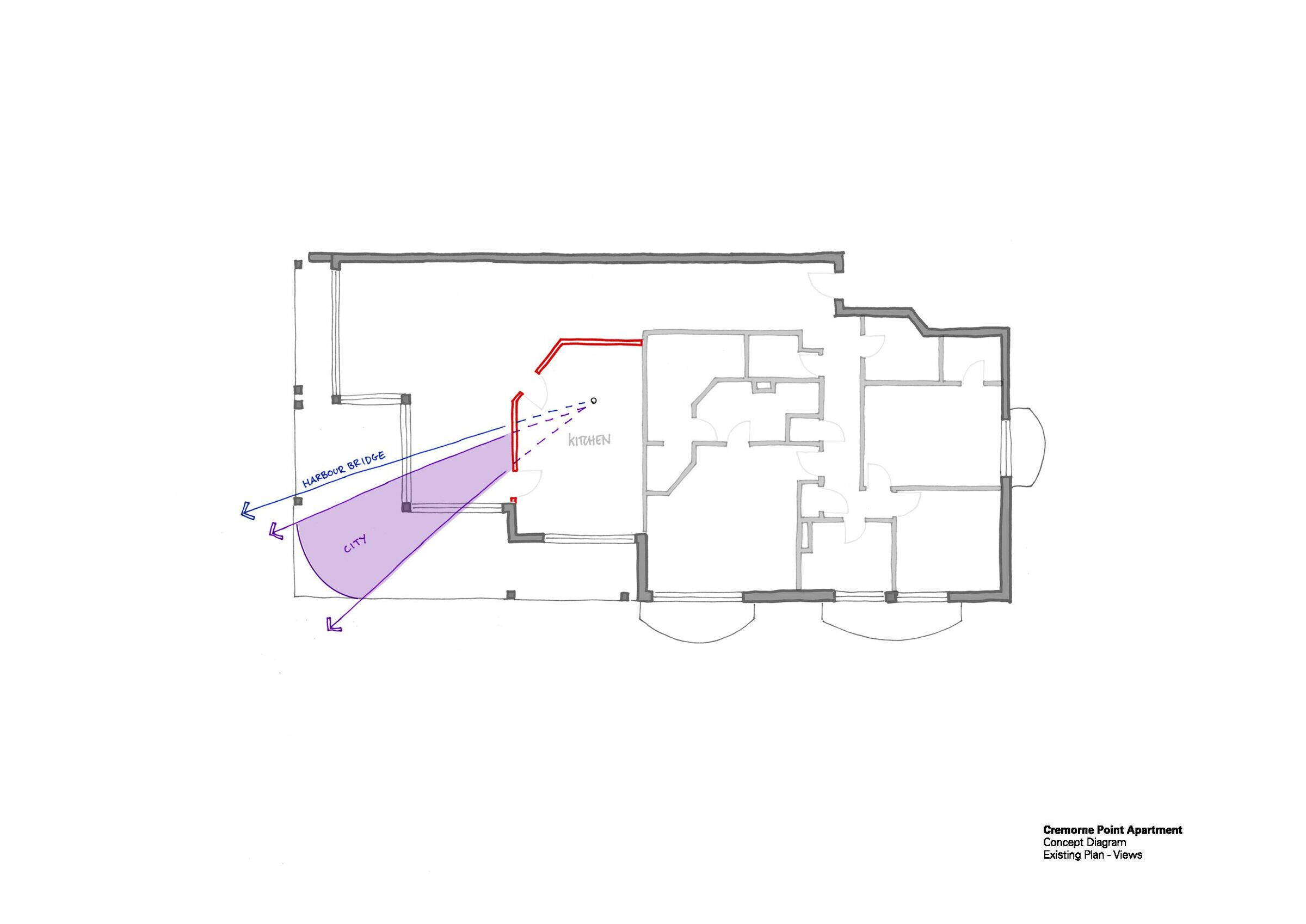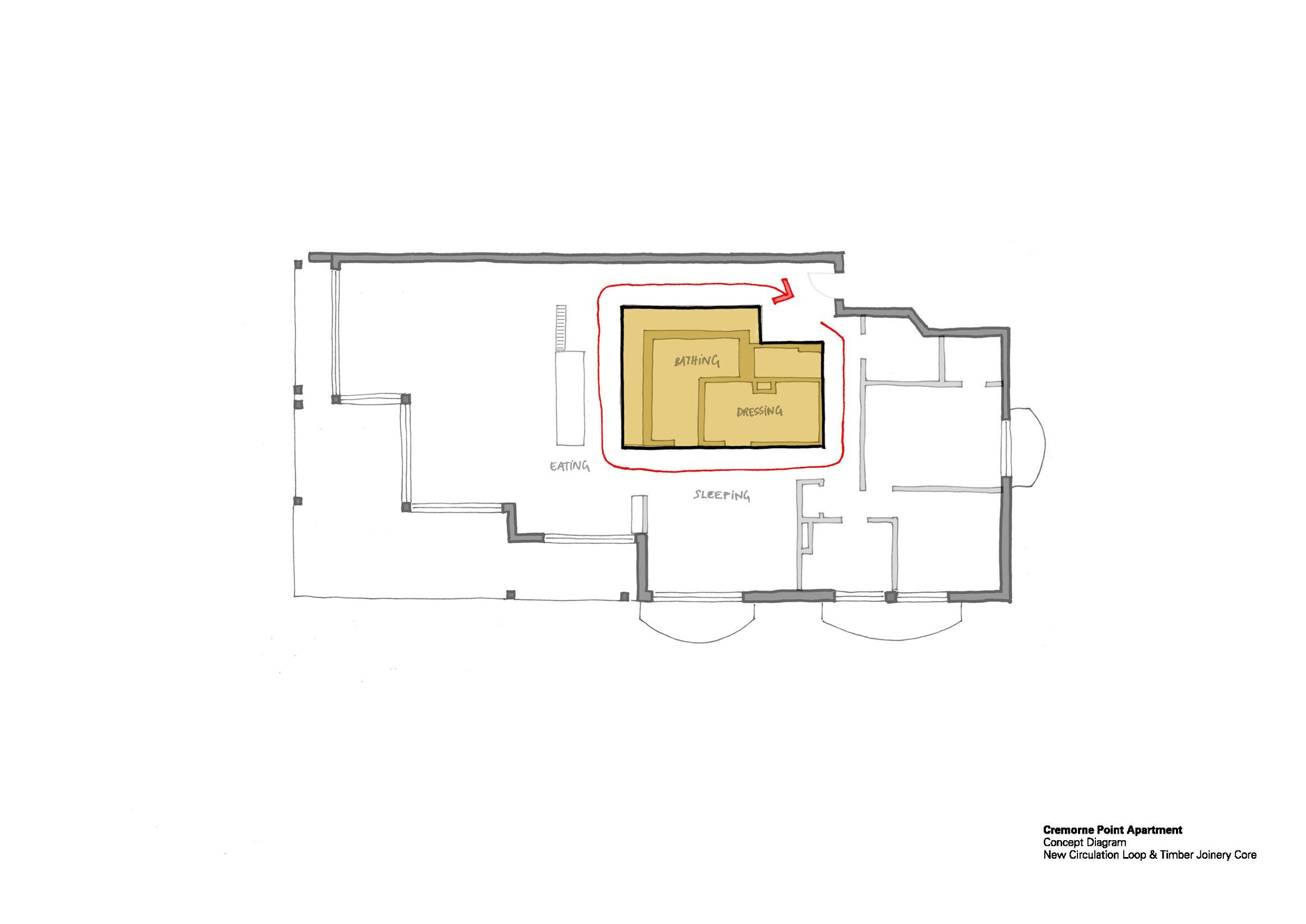 Material Used :
1. Astrawalker - Icon and Icon+ Tapware, Pura Wall Mounted Toilet Pans and Inwall Cisterns
2. V-Zug - Oven CSSLZ60, Rangehood DHL11, Induction Cooktop, Integrated; Dishwasher Adora SL
3. Barazza - Gas Cooktop LABH600-3
4. Liebherr - Integrated Fridge Freezer SICBN3366RH
5. Franke - Kubus 210-55HW sink
6. Artedomus - Porcelain - Terra Bianco, Matte
7. Tongue n groove - European oak - Eterno 'Bistre' Piccolo - timber flooring
8. Surface Gallery - Porcelain - Cementa White Matt SG160
9. Viridian - MirraEcho Bronze - bronzed mirror
10. Designer Doorware - Door hardware in weathered brass finish
11. Flexalighting - Flexa lighting Zero R6 trimless lighting
12. Studio Bagno - Manhattan 50, Sopra Undercounter Basins
13. studioplusthree - Custom designed + made furniture: Bed, Coffee Table, Bedside units
14. Project 82 - Margot Chair
15. Cult Furniture - Hay Bar Stools