A home for a garden - a home for stories
A move by the clients, into the township of Bowral, from a home by Bert Read atop Trachyte Mt Bowrell (Mt Gibraltar), was driven by a conscious decision to live closer to the town centre and reduce car use, for a smaller environmental footprint.
A turn of the century timber cottage, in a conservation precinct, was chosen and lived in through the seasons; and its challenges were keenly felt. Uncomfortable due to its orientation, with southerly living spaces frigid in winter, and a western facade and extensive black concrete driveway compounding sweltering heat in summer.
Yet the cottage, compact, and unusual in its deep setback amongst growing newer 'period homes', had a gentle assured presence to the street. The strategy to reuse the existing where possible, in this case the original core of the cottage, was challenged on site after the discovery of extensive wood borer damage, and foundation problems. An unplanned near rebuild was required. The owners are a creative duo - an academic with a passion for Australian literature, and a gardener with expertise in native landscapes and an adept weaver. Thus the brief augmented to include a home for a garden, and a home for stories, interwoven.
Essential design strategies were distilled early on and drove decisions throughout: The existing cottage was clarified, removing unsympathetic additions, outbuildings and a substantial amount of driveway. Internal planning was reversed to bring living to the north and to connect life within to the life of the street. A slot in the roof cut along the circulation space admits light deep into the cottage and offers glimpses of the passing clouds. From the verandah, a celebrated view back to the former home on Mount Gibraltar and winter sun admitted by a brise soleil verandah roof, can be enjoyed. This verandah wraps around to the west, where carport and entry ramp welcome and at the same time protect from the western sun. Entry circulation, under a skylit fold, invites light deep inside.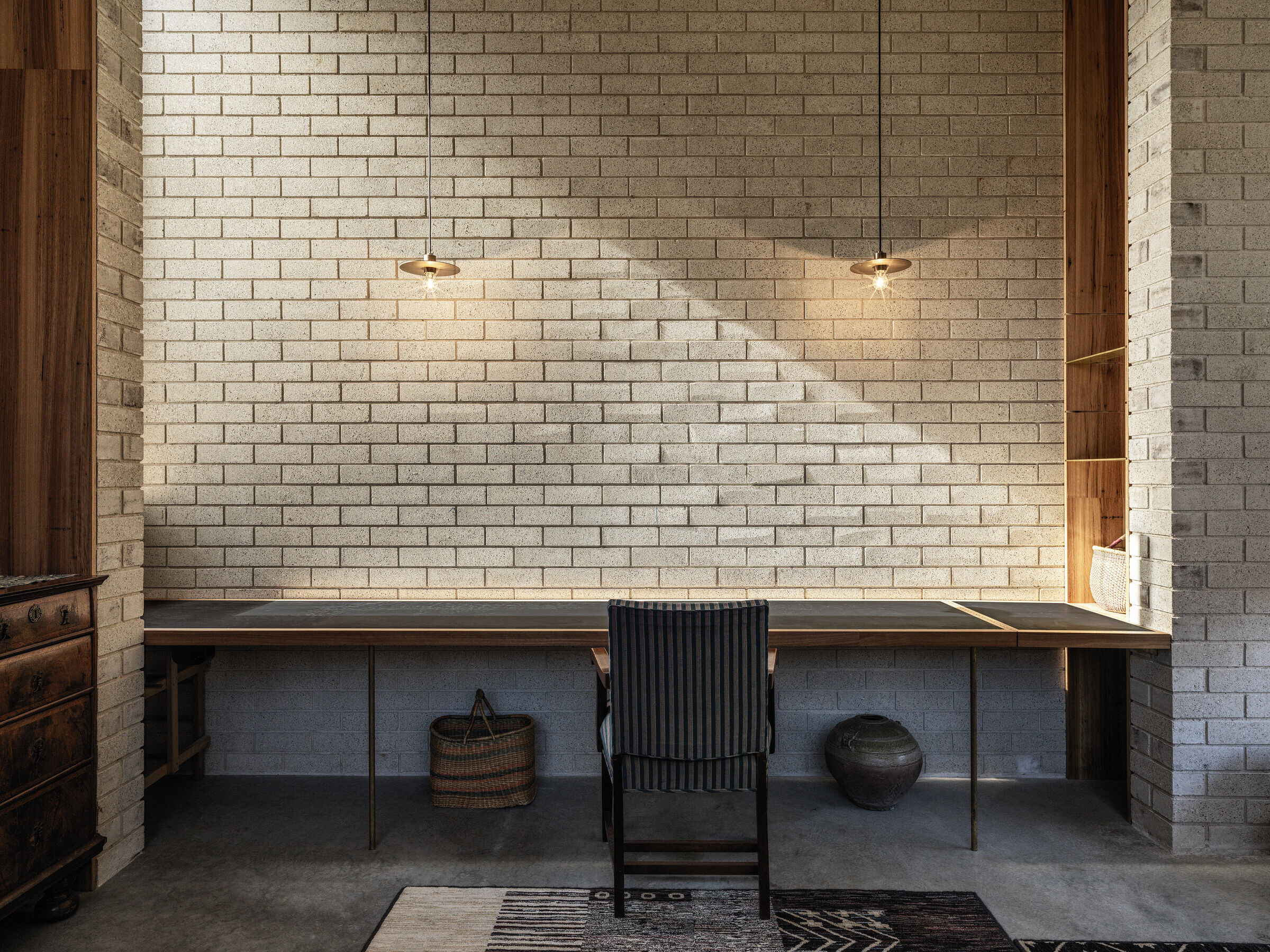 To the rear an openable verandah connects a sunken garden room. A creative retreat, for weaving, writing, reading and conversation. This wing embraces a garden, introverted and reflective. A copse of Mallee Gum growing a layer of veiled ceiling. Arbour and workbench form habitable edges. Interior merges into garden.
This imagined garden drove the material selection - a muted palette. White honed concrete bricks, aggregate in sandy tones, FC panels and grey weatherboards to collect diffuse shadows, and highlight native tones. Blackbutt is structure and finish throughout. Post and beam, arrised to the scale of a passing body. Joinery by a local maker, robust and direct. Recycled hardwood windows, doors and battened brass screens add framed garden views and layers of shade. Filtered light inside.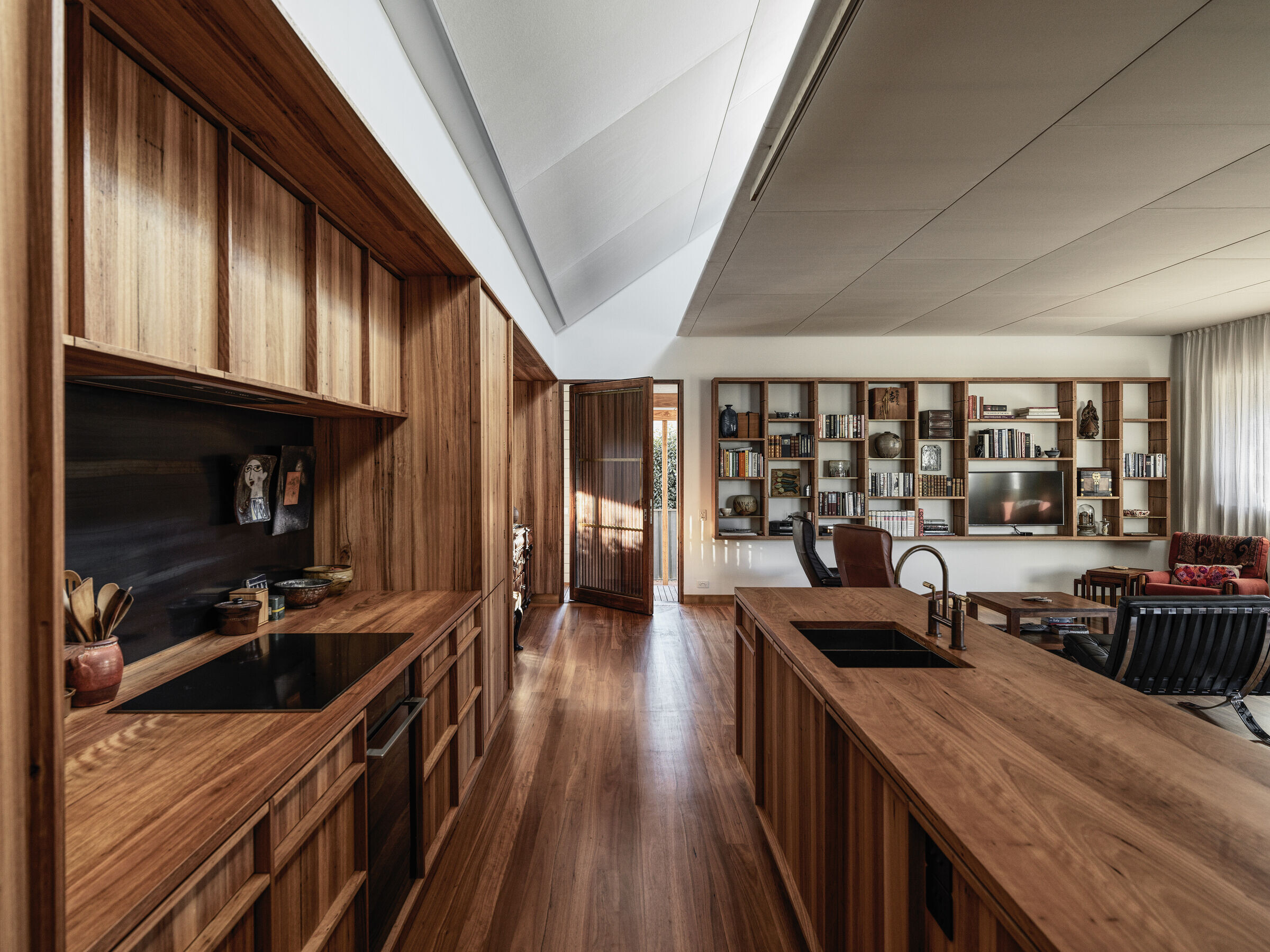 A backlit ceiling of semi-translucent artist canvas in the living room hovers in the space, soft and cloudlike. Sound diffuse against a background of rich texture in collections of furniture, books, ceramics and tapestries. Brass skirting, highlights and fixtures provide lustre and patina over time.
'The architects responded in a positive way to our requests for a house which expresses beauty and integrity whilst delivering necessities to enable us to stay here in our advancing years. Creative thinking, together with the architects' willingness to listen and ability to deliver has resulted in a beautiful and liveable house. Most satisfying!'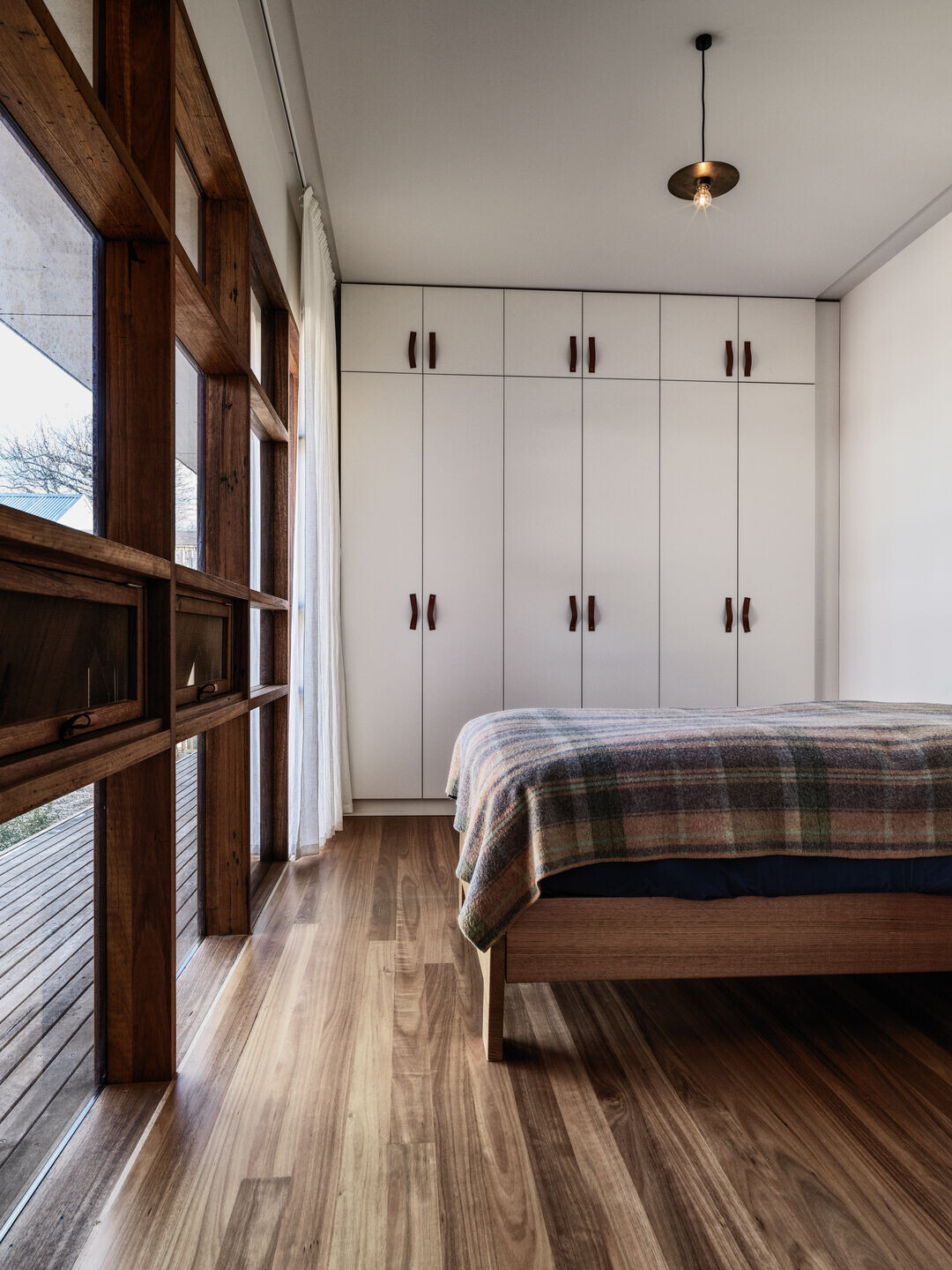 Sustainability Statement
The story behind the project, to allow ageing in place, and connect owners with the walkable town and its now oft utilised train links to Melbourne and Sydney, was in itself a sustainability story. This has been woven throughout - from passive and active systems, material and finishes selections, to the vegetable gardens now planted. A place for a low impact life. Passive solar principles resulted in a re-planning of the existing home to bring living spaces north, where a series of layered angled sun blades and verandah overhangs control solar gain precisely.
The strategy to reuse the existing where possible, (in this case the original core of the cottage), was challenged on site after the discovery of extensive wood borer damage, and foundation problems. An unplanned rebuild was required. This put the works in reverse for some time, however it opened the opportunity, while the ground was briefly exposed, to drill 80m down to incorporate a geothermal heating and cooling system. All heating and cooling is now provided via discreet CNC milled timber vents integrated into the perimeter of the flooring.
The rebuild further enabled a drastically improved result for the tightness of the building envelope and insulation levels. The north facing roof and garden storage supports an extensive solar system. Rainwater is collected for reuse. During the demolition a series of photographs from the turn of the century were found in the roof, and discussions around this ultimately resulted in a determination that the rebuilt outcome could be now improved in terms of crafted quality, so that it would likely surpass its previous longevity. Recycled timbers are used throughout, with double glazing, and materials + finishes of zero VOC ensure a healthy, unique, and low energy home.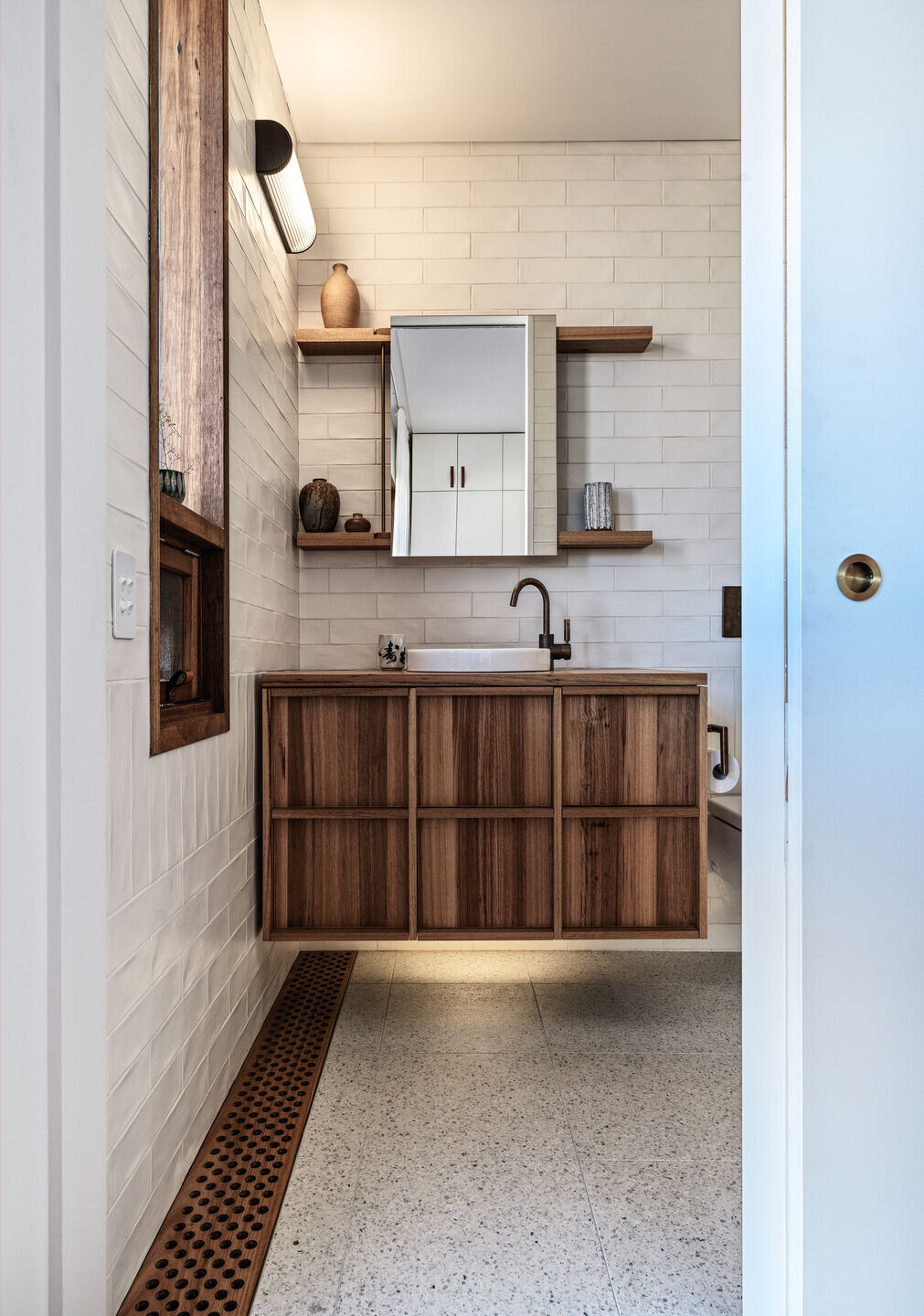 Team:
Architects: Takt Studio
Builder: Bricon Projects
Structural Engineering: Geoffrey Pryke
Joinery: Forest Furniture
Photography: Ingvar Kenne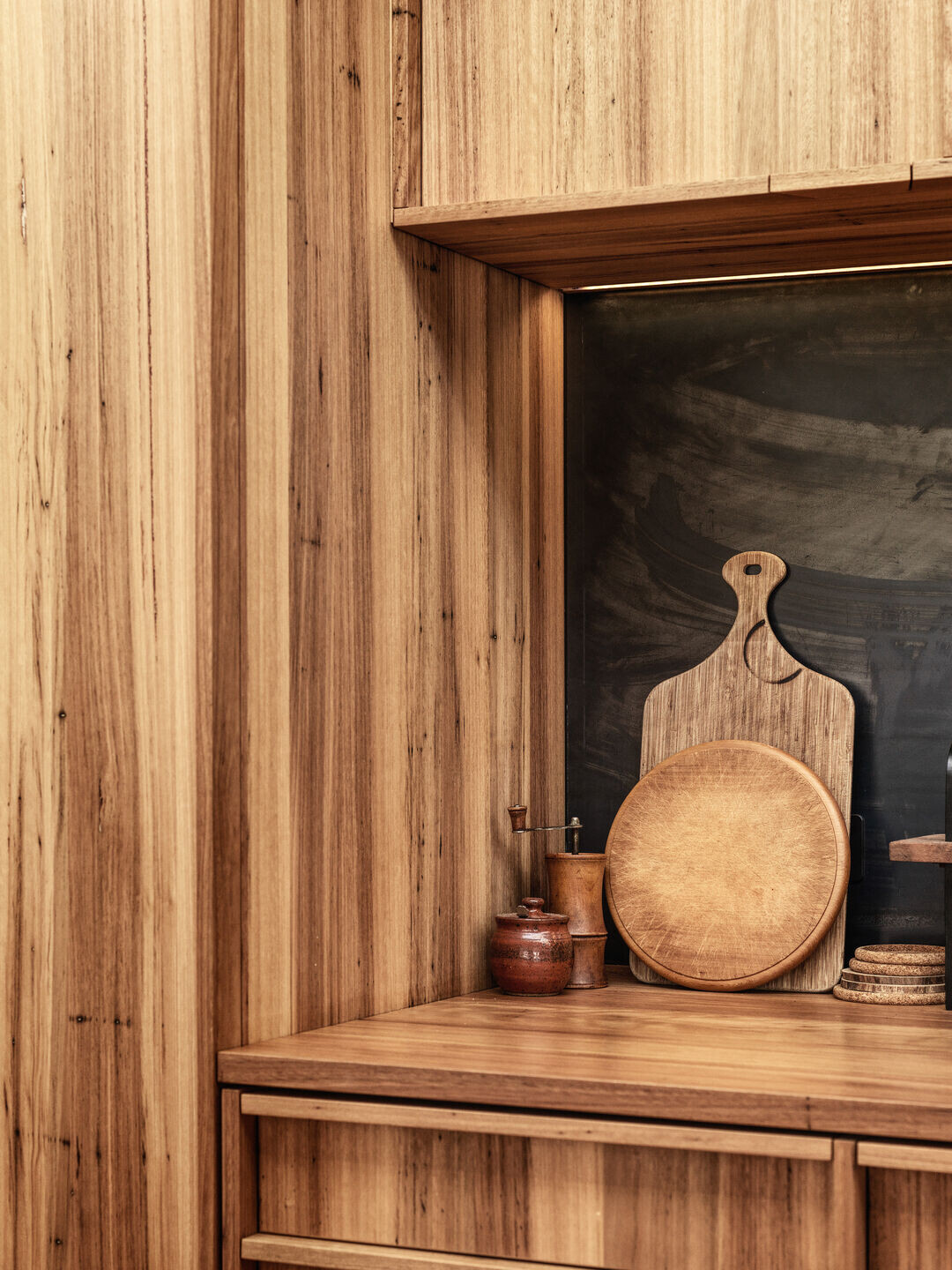 Materials used:
Cladding: Coach House timber cladding, Barestone FC, GB Honed Bricks
Flooring: Hardwood timber, Concrete
Doors + Windows: AHJ Joinery
Roofing: Lysaght Spandeck