What was the brief?
This project started with the start of the pandemic, this meant a revision to the initial brief in terms of how the spaces are used, we had to incorporate social distancing from the word go. The brief was to design workable useable office/warehouse spaces and to incorporate a fully separate 'blending lab' environment. These spaces had to work seamlessly together, with certain provisions for separation.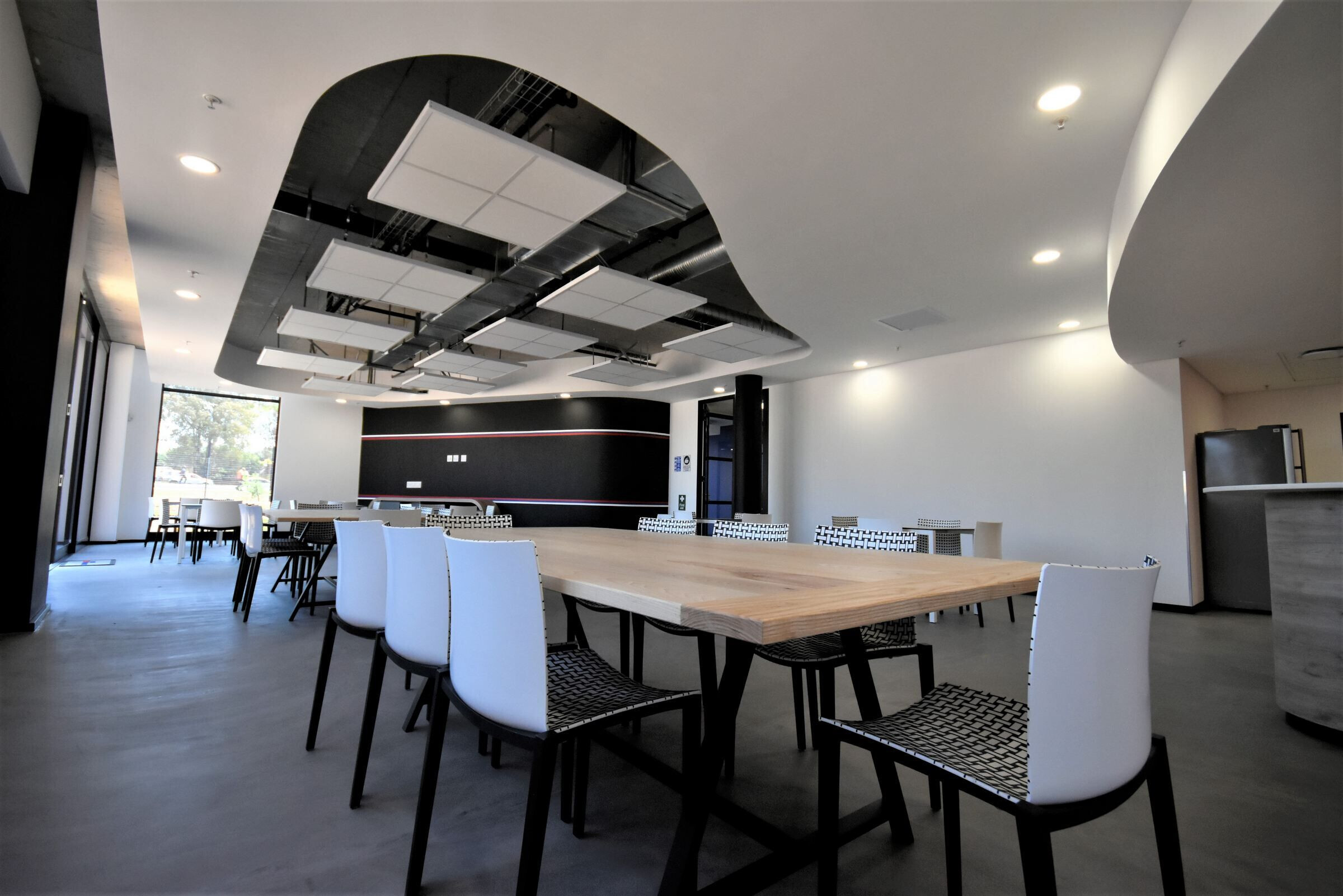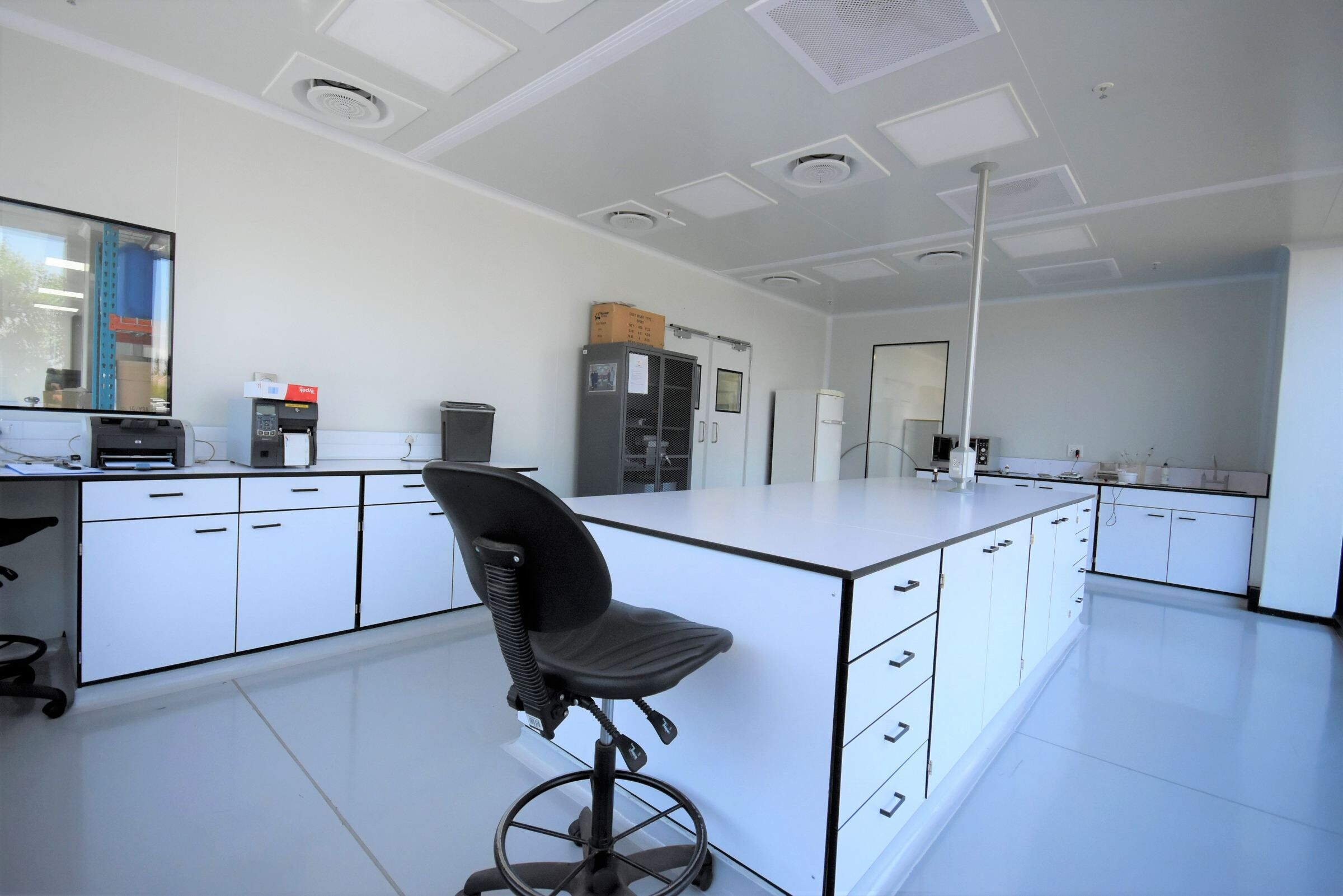 The design concept was based on a chemical molecule – since Brenntag is a chemical company. This was taken literally by juxtaposing of geometric forms with organic forms, and by carrying the idea into the built internal form of the building and furniture.
The open plan areas are a mix of straight large footprint desks, mixed with organic desks, with large open spaces to allow for social distancing. The informal meeting spaces have no couches, and as such the spaces become multi-use, so a meeting space can be a meeting space, a quiet room, an interview room, with single seating for social distancing.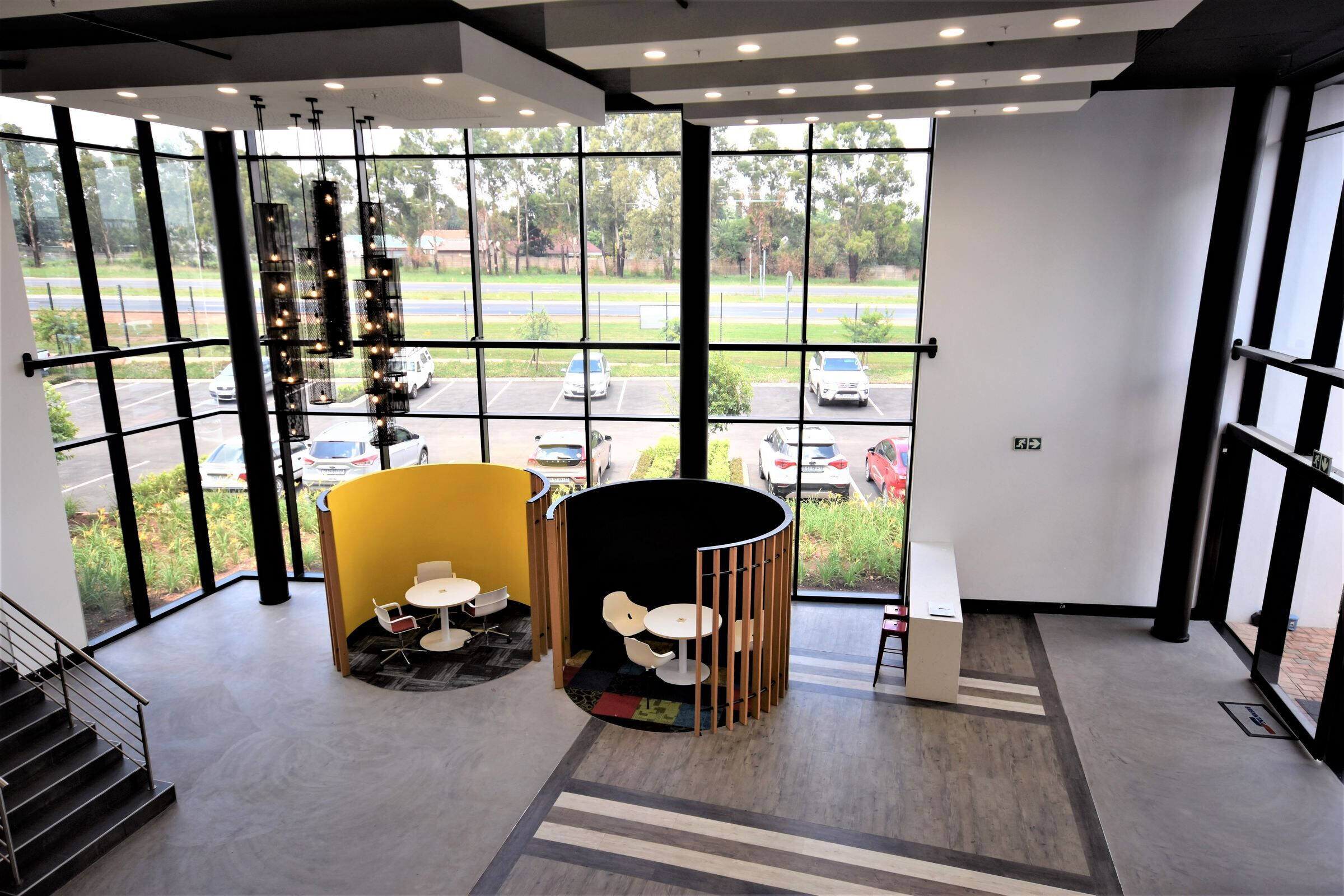 The completed building works well design wise and practicality wise, all the spaces have natural light contrasted with bright primary colours, the contrasts are toned down with exposed concrete and natural solid wood to public areas.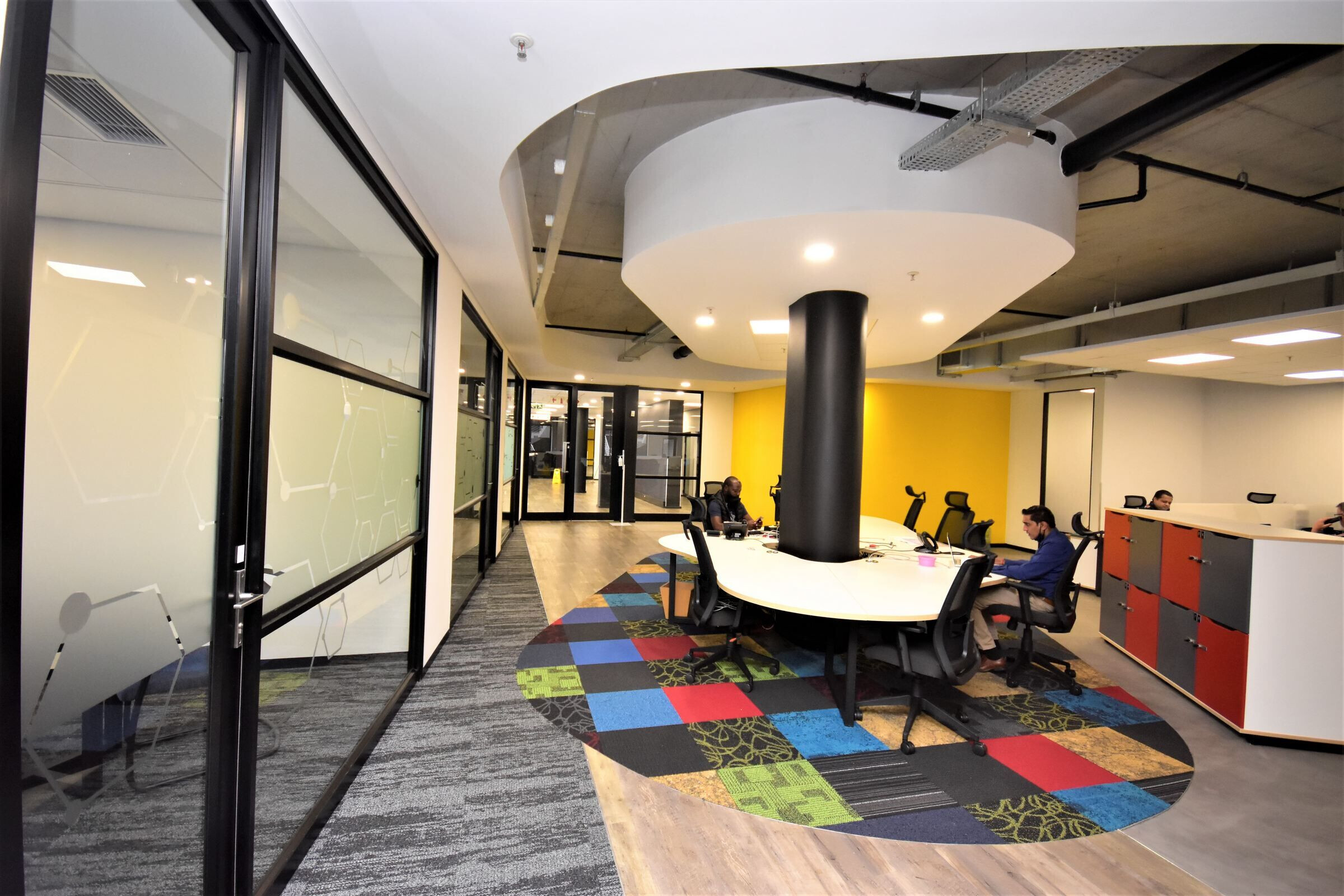 What were the key challenges?
The key challenge to this project was the fact that the project started with the start of the pandemic, which meant a fundamental shift in the design approach since the initial design was conducted without the very important face to face client interaction as we entered the full pandemic lockdown. This meant the initial important concepts and design had to be done remotely which is not easy whilst dealing with client over email, telephone, and virtual meetings. The other challenges encountered were dealing with space planning namely, how to combine a 'blending lab' type area on the ground floor with the rest of the building between ground & first floors for everything to work efficiently for the client. Lastly, keeping the project within a budget, and to complete it before end of 2020, with minimal construction time because of the full pandemic lockdown.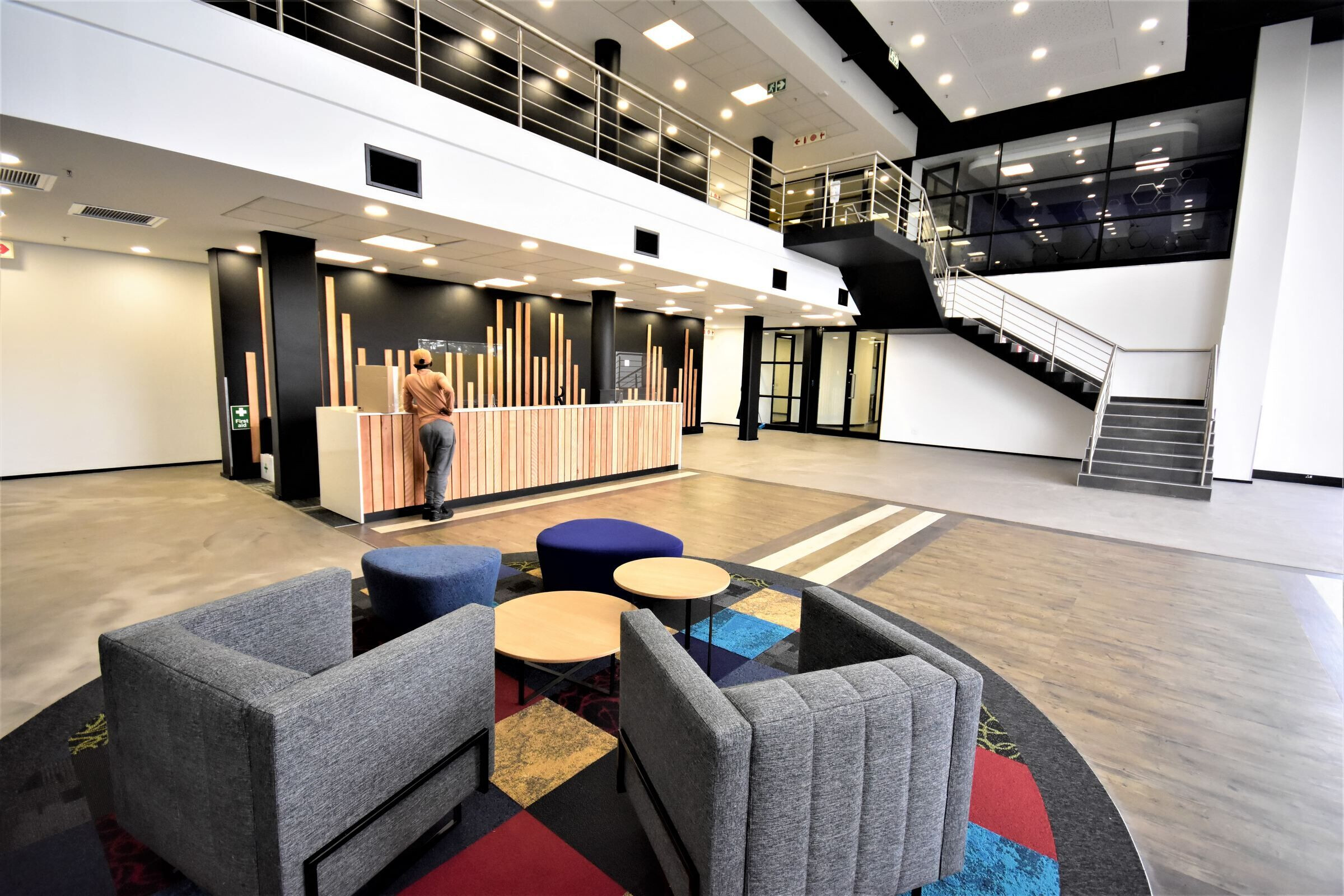 What materials did you choose and why?
We chose to mix textures, colours, softness and hardness. Textures - were in vinyl flooring, natural wood (wood is one of the products Brenntag supply) which showed up their brand in public areas. Colours - were brought in by painting walls in bright colours. The idea of 'smartie box' was used in the carpeting. Softness - was brought in multi coloured fabrics on the office furniture. Hardness - Sealed concrete floor predominantly used in between vinyl and carpeting
Material Used :
1. Interface Carpets - Employ Lines / Employ Loop / Works Geometry / Smartie Range / Works Flow
2. Van Dyk - Woodlands Vinyl Woodplank
3. Stoncor - Stonclad Ul
4. Gyproc - Flush Plaster Ceilings / 600 X 600 Acoustic Ceiling Tiles
5. Spazio Lighting - Dito 3 & 4 Pendants
6. Stephen Pikus Design Lighting - Recycled Light Fittings
7. Pgbison - Laminated Finishes To Shopfitting
8. Caesarstone Eezi Quartz - Stone Tops To Shopfitting
9. Novodecor - Innovus Novodecor Laminated Finishes To Shopfitting
10. Tradecorp - Office Furniture & Chairs