The buyers of the Bay View House, aptly named for its waterfront locale, were seeking a perfect home to retire in, one with a smaller footprint that meshed with their creative leanings, all while staying within a set budget. Energy and water savings, as well as working with the natural landscape, also were the key challenges. As outlined in Atlantic Focus magazine, Passive Design Solutions worked in conjunction with Carpentry Inc. and Engineering Ltd. to develop a concept that met these needs while leveraging the performance opportunities of a passive energy design.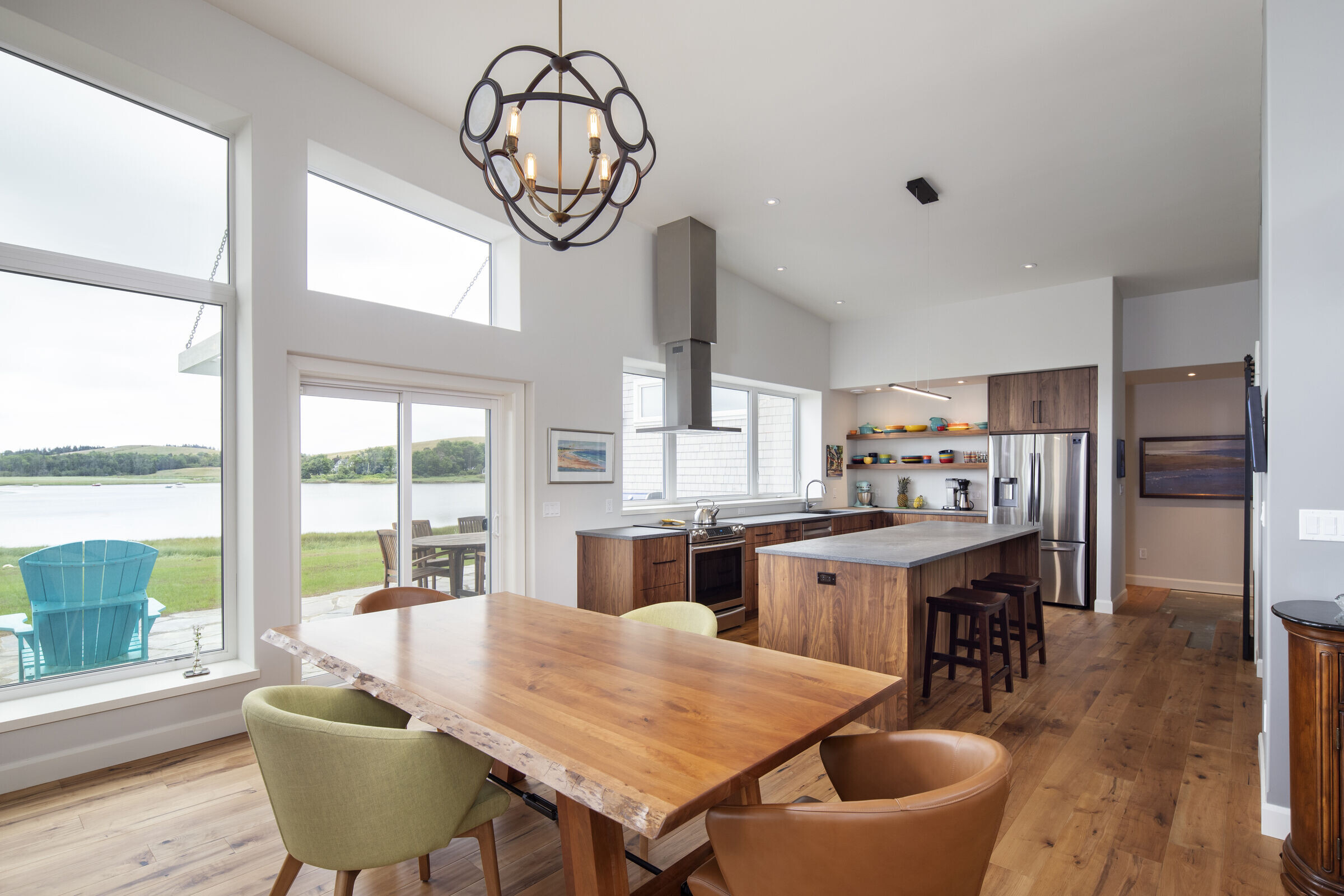 Performance efforts began with the orientation and layout of the home. The team considered existing trees and landscape, and clerestory and operable windows were strategically placed to provide cross ventilation throughout the house to provide passive solar. In order to conserve and manage the water supply, they used the existing drainage on-site to move the water through the ground. The design team placed the structure as close to the road as possible to protect the shoreline. The team minimalized the need for excess excavation by resting the concrete slab directly on grade. Native, low-water plants were planted to enhance the setting around the house, and reduce the impact of their presence. A fresh air appliance (HRV) provides mechanical ventilation for the home. This high-performance, ENERGY STAR®-rated system continuously supplies 175 cfm of outdoor, filtered air while removing moist, stale indoor air, and improves indoor air quality for occupant health. At the same time, it recovers 80% of heat from outgoing air to preserve efficiency.
In addition, the home is net-zero-ready with PV Solar rough-ins. Energy modeling helped ensure this passive home will consume significantly less operational energy throughout its life cycle than a code-compliant home. Through these concepts, the Bay View House fits with the intended design, and leverages the performance opportunities of a passive energy design all while maintaining the natural beauty of the setting.