Consideration of the highly residential character of the neighbour­hood and the beautiful protected trees on the site were key influences in how the client's brief was met. The architectural concept was developed around these parameters, with traditional modernist references to Mies van der Rohe's Krefeld Villa, or the brick residences in the same neighbourhood of local Antwerpen architect Nachman Kaplansky.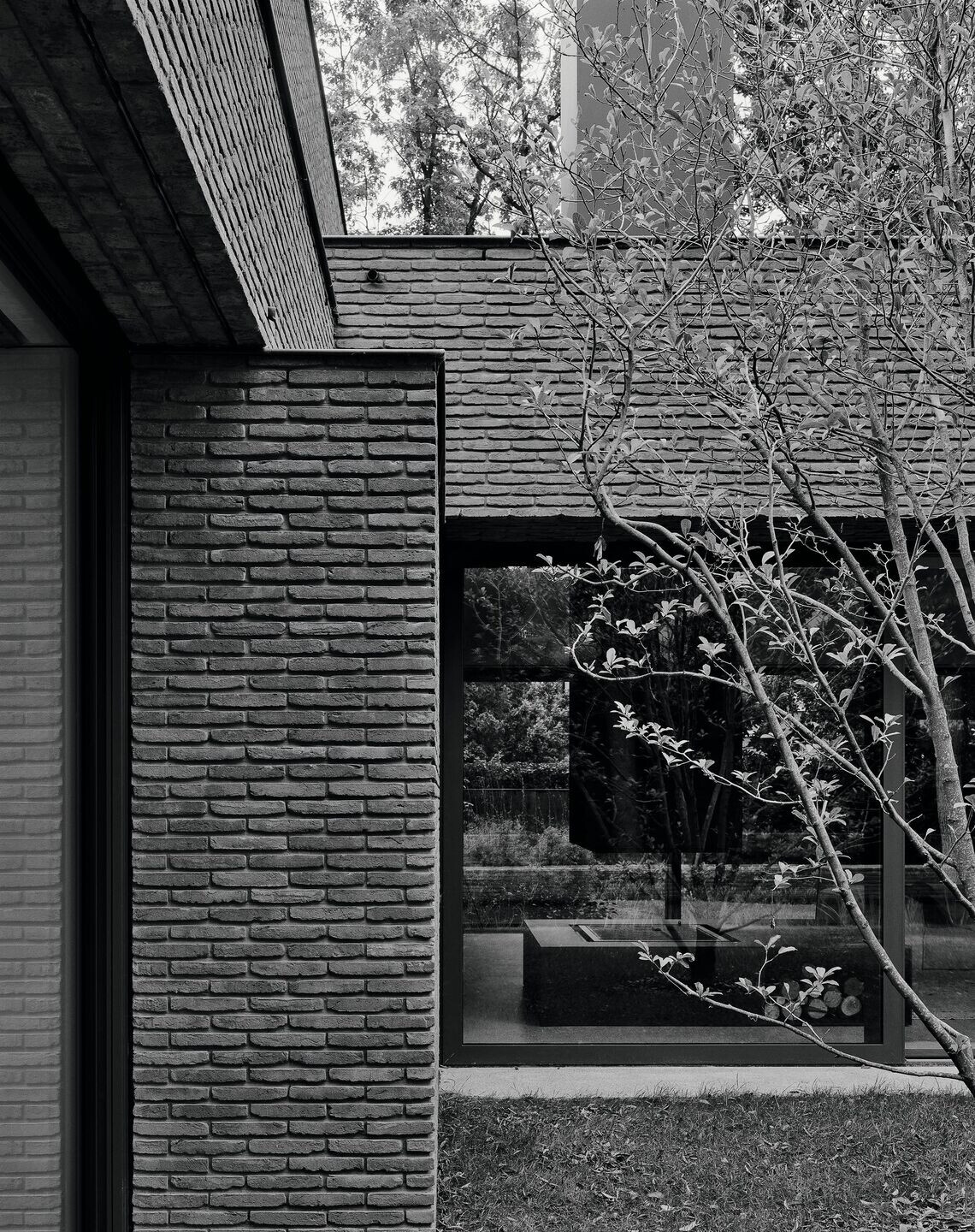 The use of materials – red brick, dark-grey window frames, large glass surfaces and zinc eaves – makes reference to the cottage-villa typology; however, the consistent and rigorous application of these materials produces a new entity and atmosphere within the neighbourhood. This is a timeless design with a subdued manner that opposes the recently built neo-kitsch villas to be found nearby.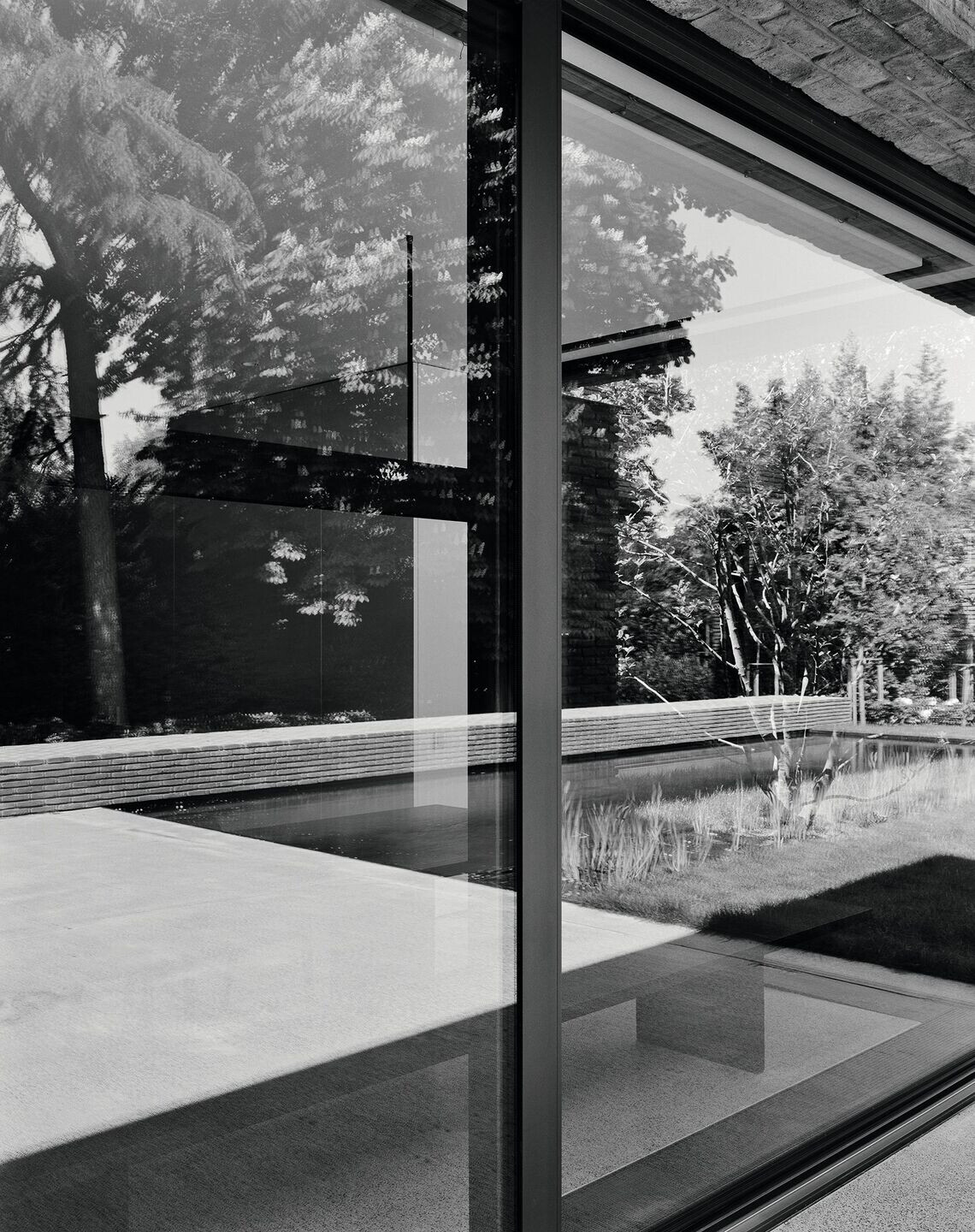 The concept for the house is driven by the format of the brick, in its purest form, and its application across several stacked and offset geometries, which aims to draw the garden into the interior, giving the project a sculptural quality. The brick volumes define the functional relations of the individual spaces in the house and create a direct connection to the garden and the open, or closed, character of each zone.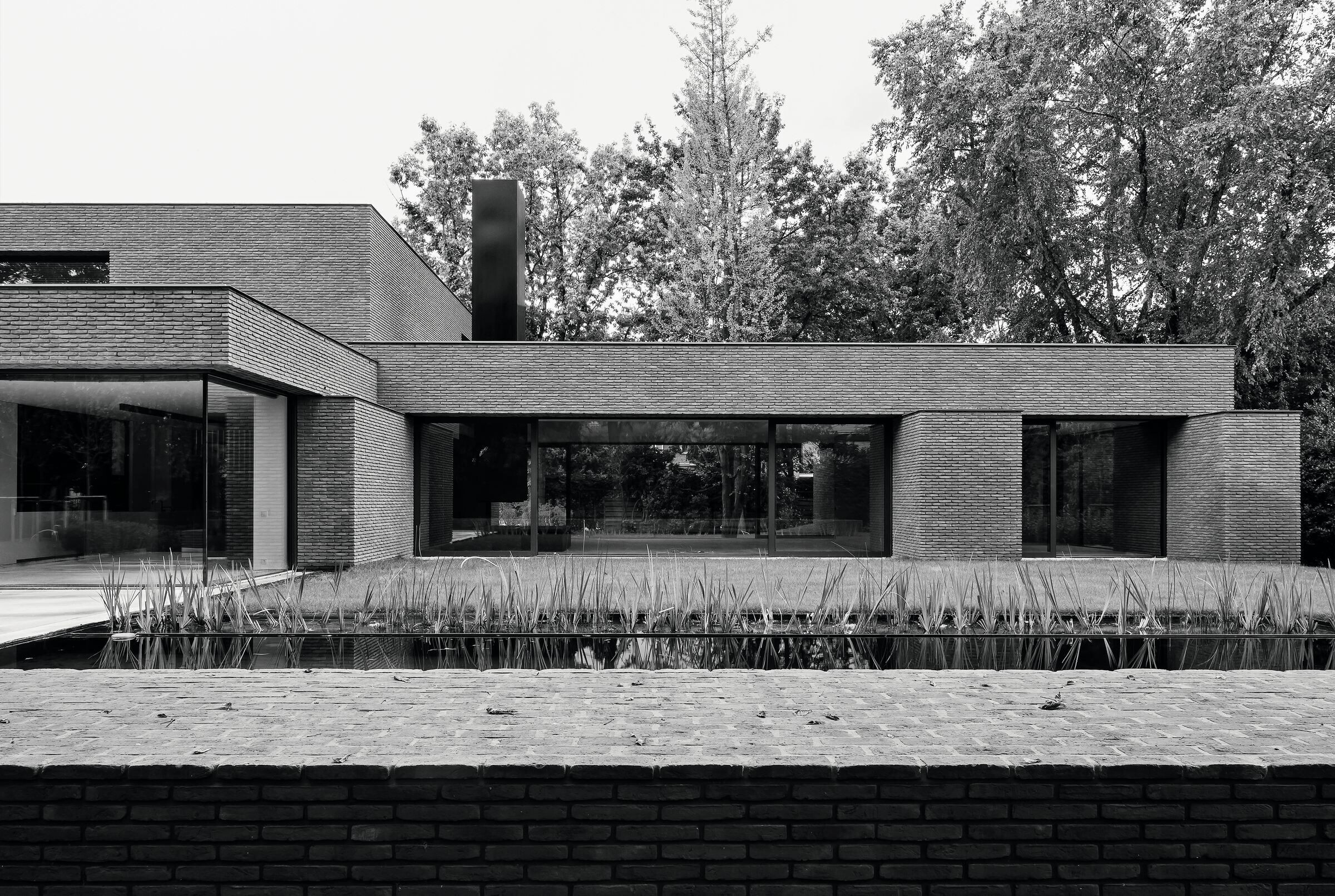 Above all it is a 'garden house' in the middle of a verdant residential plot. The position of the trees on the southwest side of the property defined the central siting of the main volume, and suited the open and interconnected lifestyle of the client and their desire for a spacious open living area with a direct connection to the surrounding greenery. The building envelope sits within the construction lines of the neighbouring buildings on either side. It maintains the shortest possible distance from the protected trees on the site in order to maintain a direct relationship with them. However, it is placed as far back as possible from the central swimming pond, which is flanked by a low brick volume. The front garden is southwest facing, while the rear garden faces north.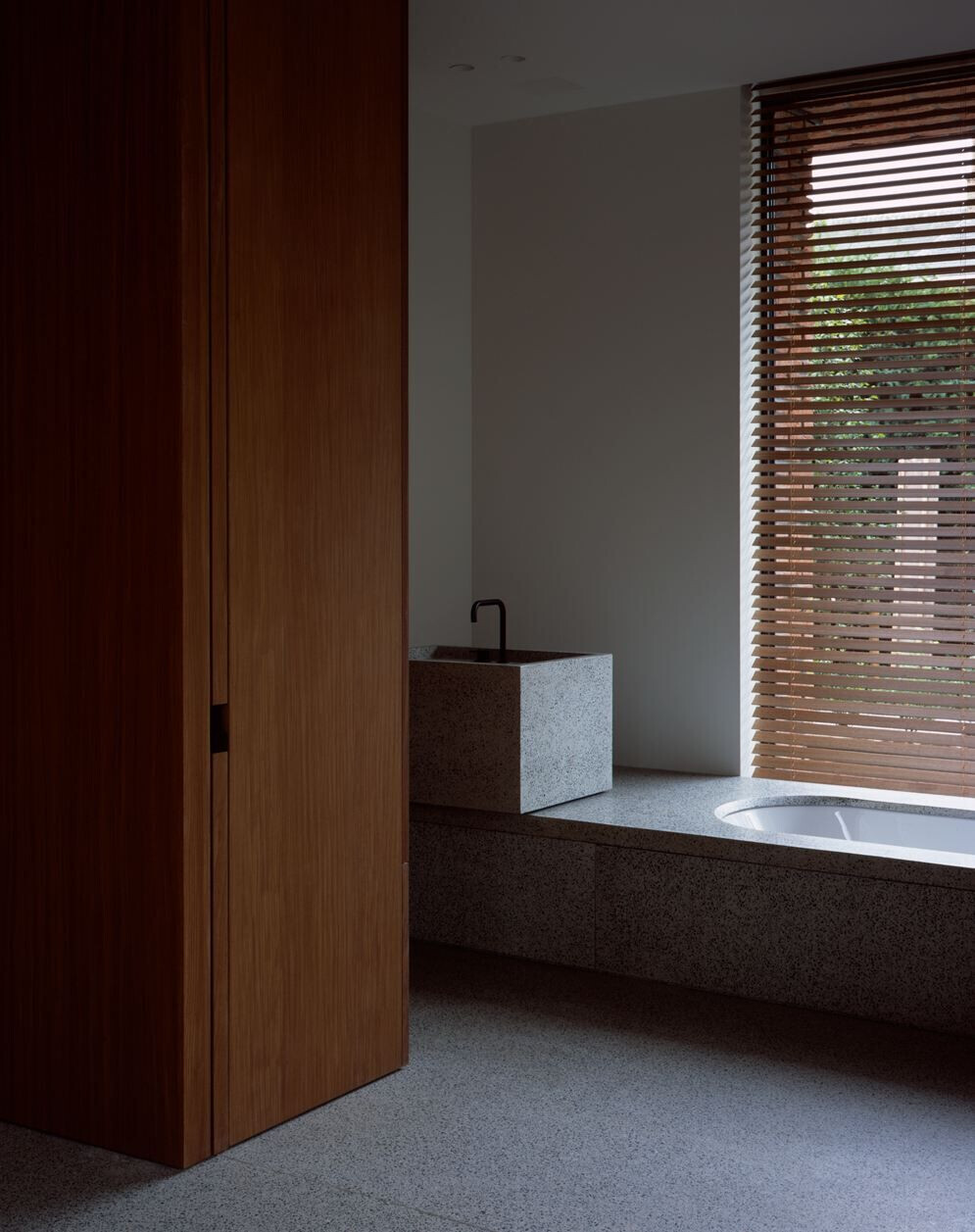 The detail of the interior is in keeping with the architectural concept. The brick finish extends inside and is complemented by afrormosia and white-painted walls with black detailing. A counter of afrormosia and terrazzo forms the heart of the kitchen, and a large blackened-steel fireplace stands as a strong cubic volume in the central living space, while custom-made black oak tables provide a rich contrast within the space. Concrete and terrazzo have been used for bathroom finishes and workspaces. The concrete floors extend beyond glazing lines and exterior brick geometries, and integrate fully into the surrounding landscape, which was designed by Martin Wirtz.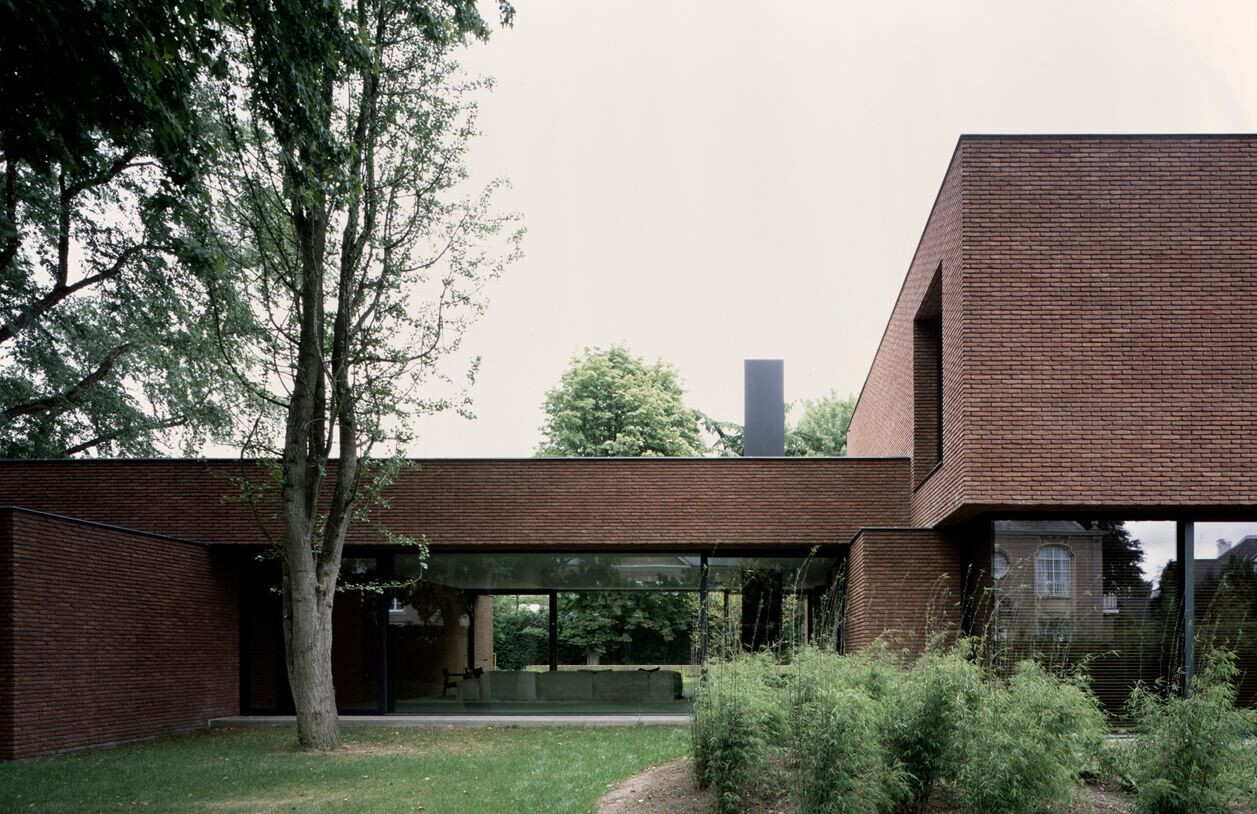 The loose furniture accords with the volumetric analyses but is secondary to the architecture and fixed furniture. Its informal character emphasizes the overall consistent design language.