Alsace LA, un hôtel-boutique de 48 chambres niché dans le quartier historique de West Adams à Los Angeles, ouvre ses portes le 20 septembre et propose une expérience authentique et débridée où l'énergie artistique et libre est incarnée et interprétée par le design. L'hôtel s'articule autour d'une cour intérieure luxuriante et d'une piscine creusée isolée, agrémentée d'un paysage désertique de rêve qui ajoute au charme d'oasis de l'hôtel. Au cœur de la philosophie de l'hôtel, Alsace LA a été envisagé en pensant à la communauté de West Adams, en cherchant à servir les habitants et les propriétaires d'entreprises en tant que commodité, partenaire et soutien.
Le quartier diversifié et créatif de West Adams est riche d'une architecture historique étonnante et constitue l'un des plus anciens quartiers de Los Angeles. En plus de ses maisons emblématiques, le West Adams d'aujourd'hui peut s'enorgueillir d'une scène gastronomique florissante, de boutiques uniques, d'un art de rue abondant et d'une variété d'organisations culturelles et à but non lucratif.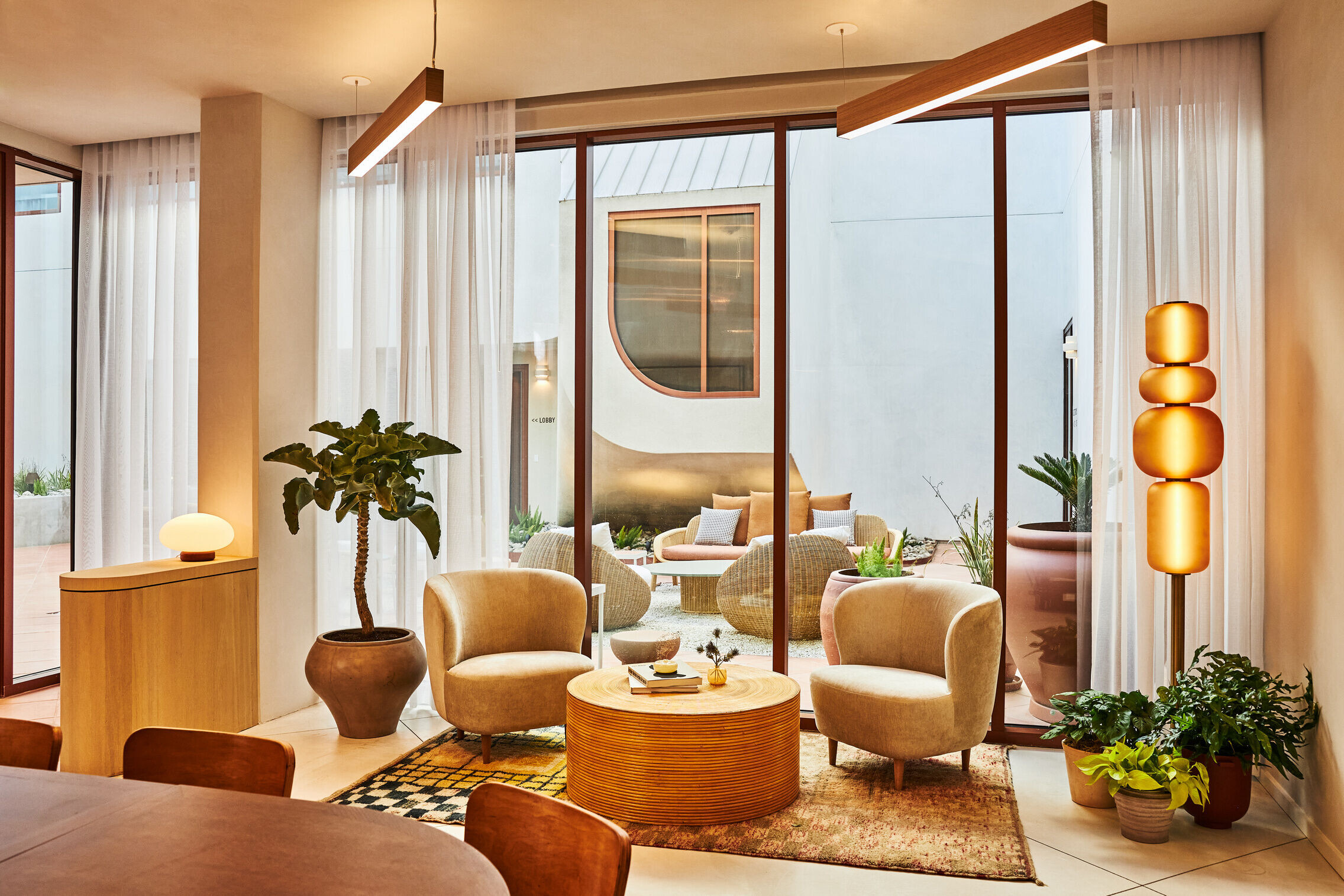 Le design d'Alsace LA met en avant le pouvoir de la narration visuelle, en s'inspirant d'éléments charmants comme les courbes inspirées du Bauhaus, les plafonds et les sols en chêne blanc, et l'art spécifique au site. En mettant l'accent sur l'inattendu, l'hôtel est véritablement un espace unique en son genre, rendu culturellement pertinent par l'art contemporain, la photographie et des détails de conception ludiques. Développé par le groupe CIM, avec une conception architecturale de NMDA Architects et des intérieurs de Home Studios, basé à Brooklyn, l'Alsace LA présente une architecture extérieure et intérieure à plusieurs niveaux, avec une utilisation éclectique de meubles et d'éclairages vintage et personnalisés. Les textures cannelées, le plâtre en terre cuite et les matériaux en bois chaleureux font subtilement référence à la végétation et à l'environnement naturel de la Californie pour créer l'ambiance d'une maison, celle du quartier et de Los Angeles.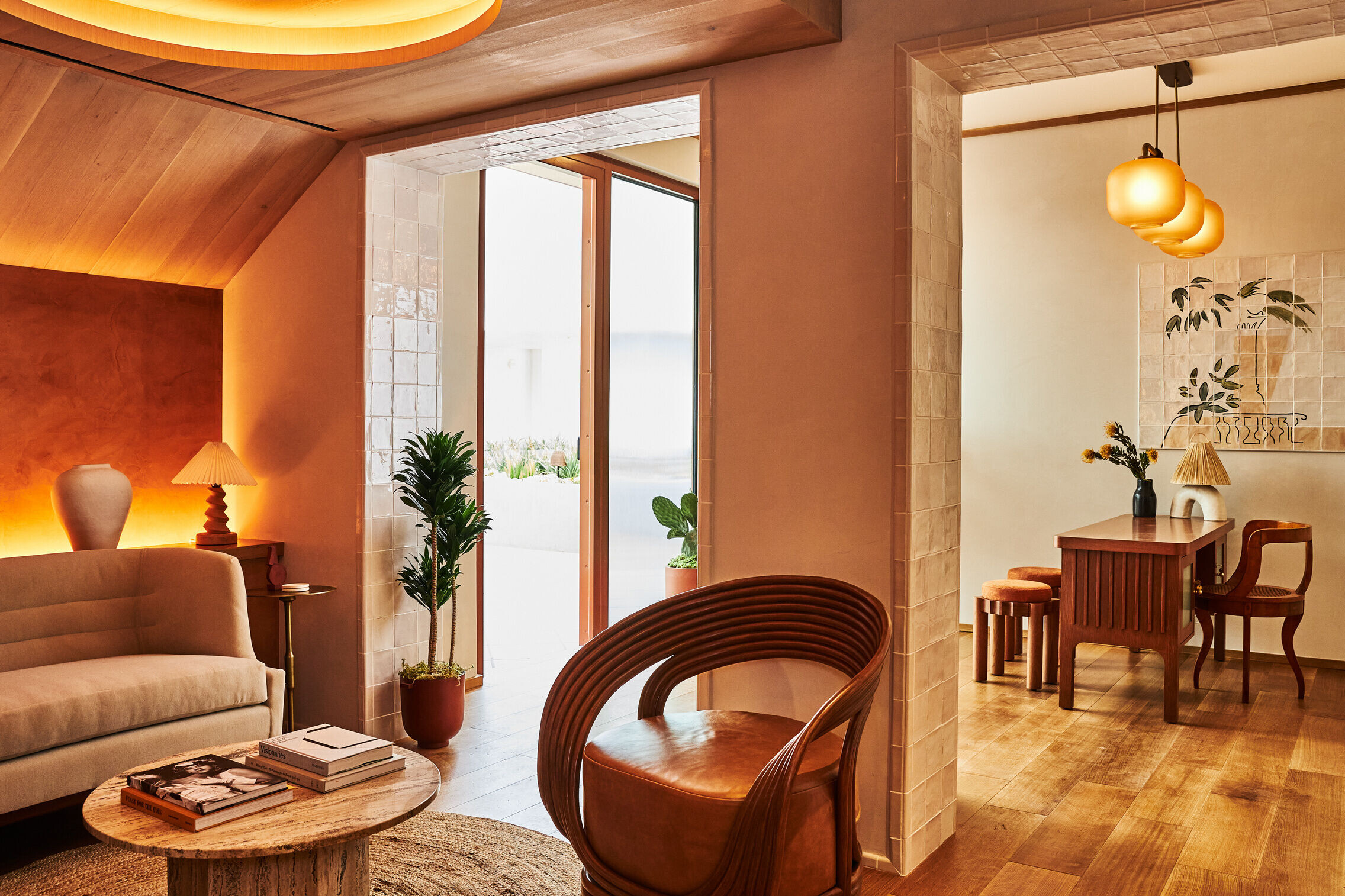 En entrant dans l'Alsace LA, les clients sont accueillis dans un hall intime et retiré, qui imite un portique de style méditerranéen. D'aspect résidentiel, la cour centrale de l'hôtel filtre la lumière à travers chacun des trois étages de l'hôtel. Les chambres, sereines et accueillantes, offrent aux clients des commodités agréables, comme s'ils séjournaient dans une résidence bien aménagée. Si chaque chambre présente des détails artisanaux, les plus grandes suites disposent également d'un balcon ou d'une terrasse, d'une table à manger personnalisée et d'un canapé sur mesure.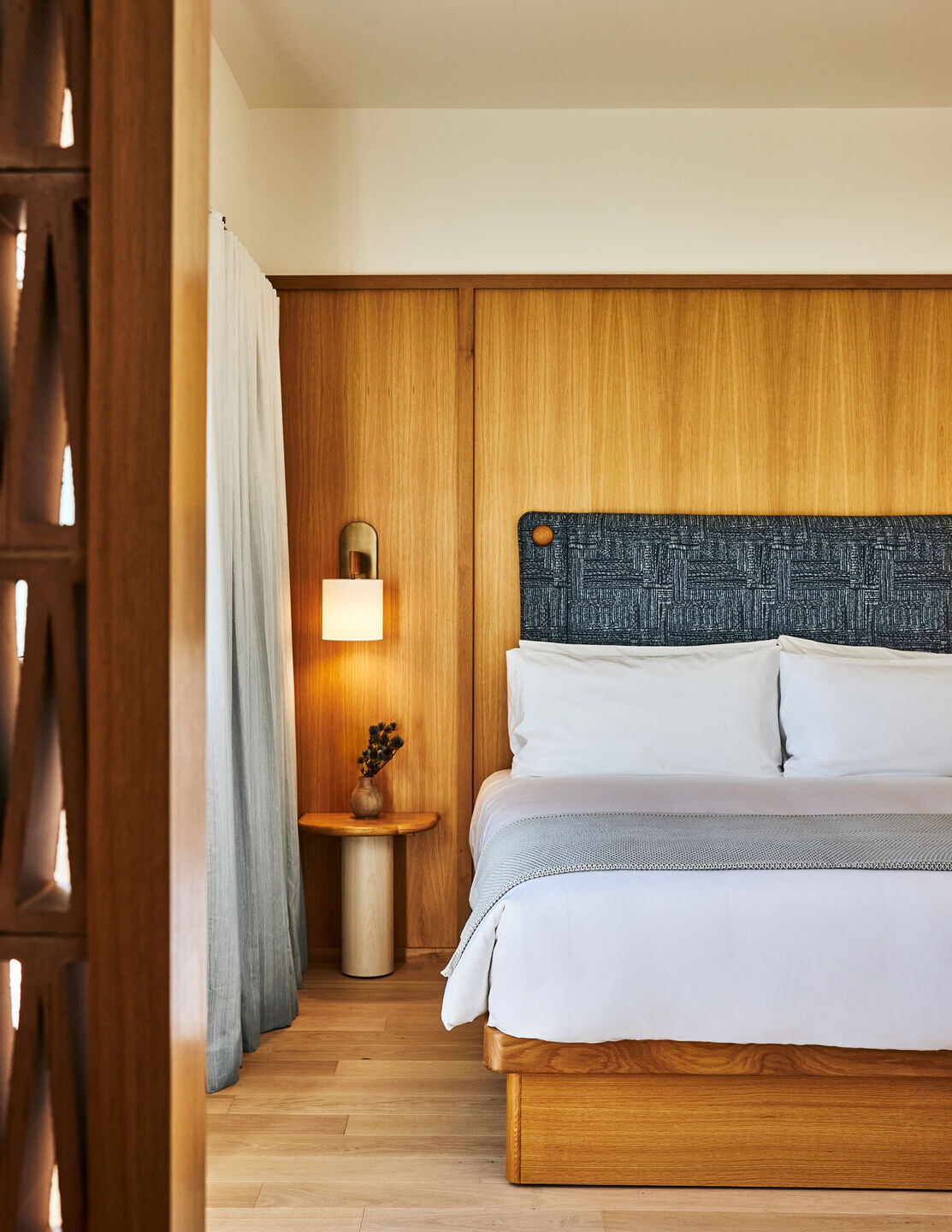 Les clients de l'Alsace LA auront droit à un café et à des pâtisseries gratuits tous les jours, et l'hôtel s'associera à Hi-LoLiquorMarket, situé à proximité, qui préparera des coffrets de vins, de bières, de spiritueux et de snacks locaux sur mesure que les clients pourront commander sur demande et se faire livrer directement dans leur chambre. L'hôtel accueillera également un nouveau concept de restaurant cet hiver, avec des options de restauration intérieure et extérieure dans la cour de l'hôtel.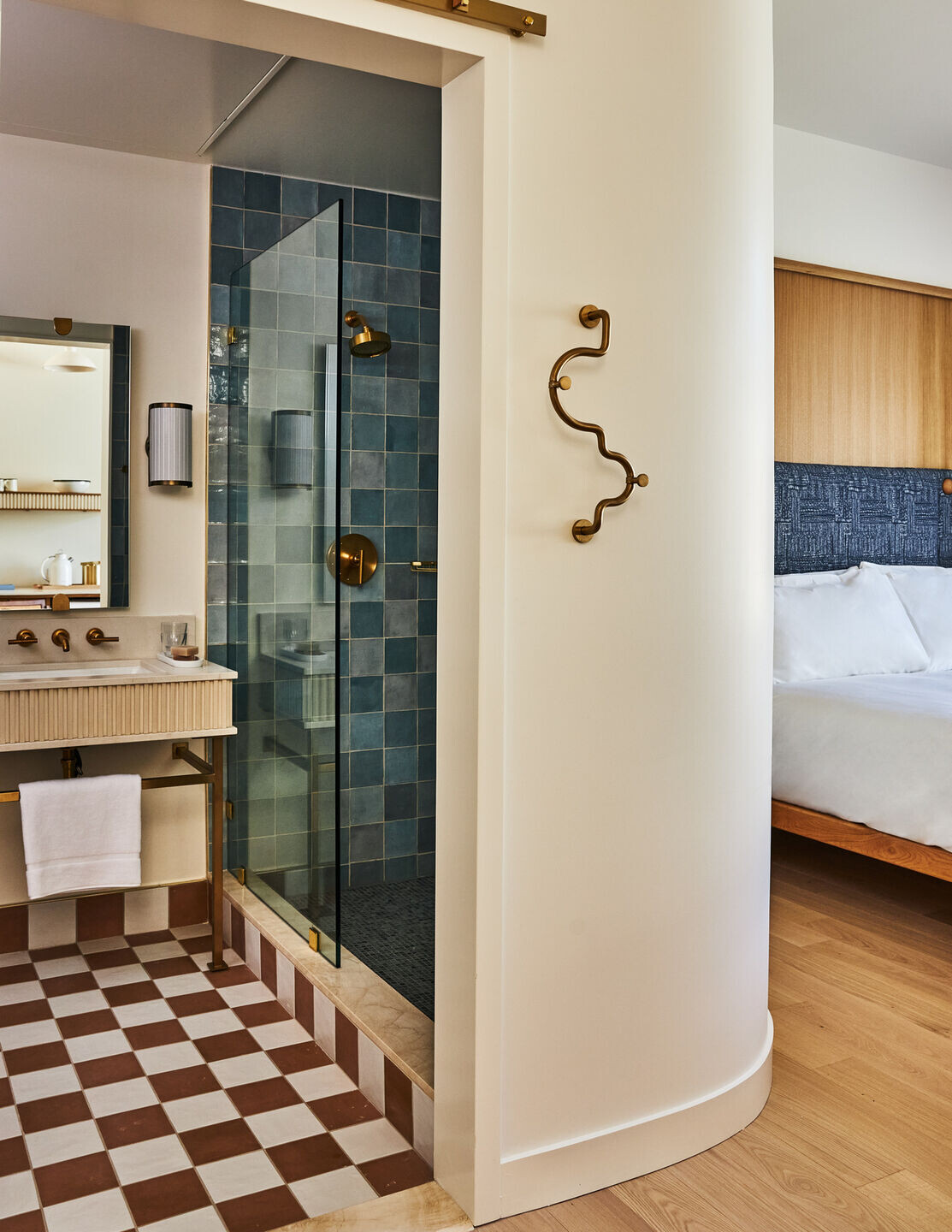 Les clients ont accès à un centre de remise en forme ultramoderne, ouvert 24 heures sur 24, qui comprend tous les équipements essentiels, notamment un tapis de course, un vélo, un rameur, un système à double poulie, des haltères et des poids libres. Comme l'hôtel dispose de nombreux supports à vélos, il offrira des vélos gratuits aux clients et des visites mensuelles du quartier historique à vélo avec l'agent immobilier local Jose Prats, fondateur de West Adams Bike Tour et de Adopt A Bike, qui remet à neuf et encourage la réutilisation des vélos. Et pour améliorer l'expérience sonore des clients, le légendaire magasin de musique High-Fidelity Records s'occupera des sons d'ambiance du hall, ainsi que des listes de lecture dans les chambres.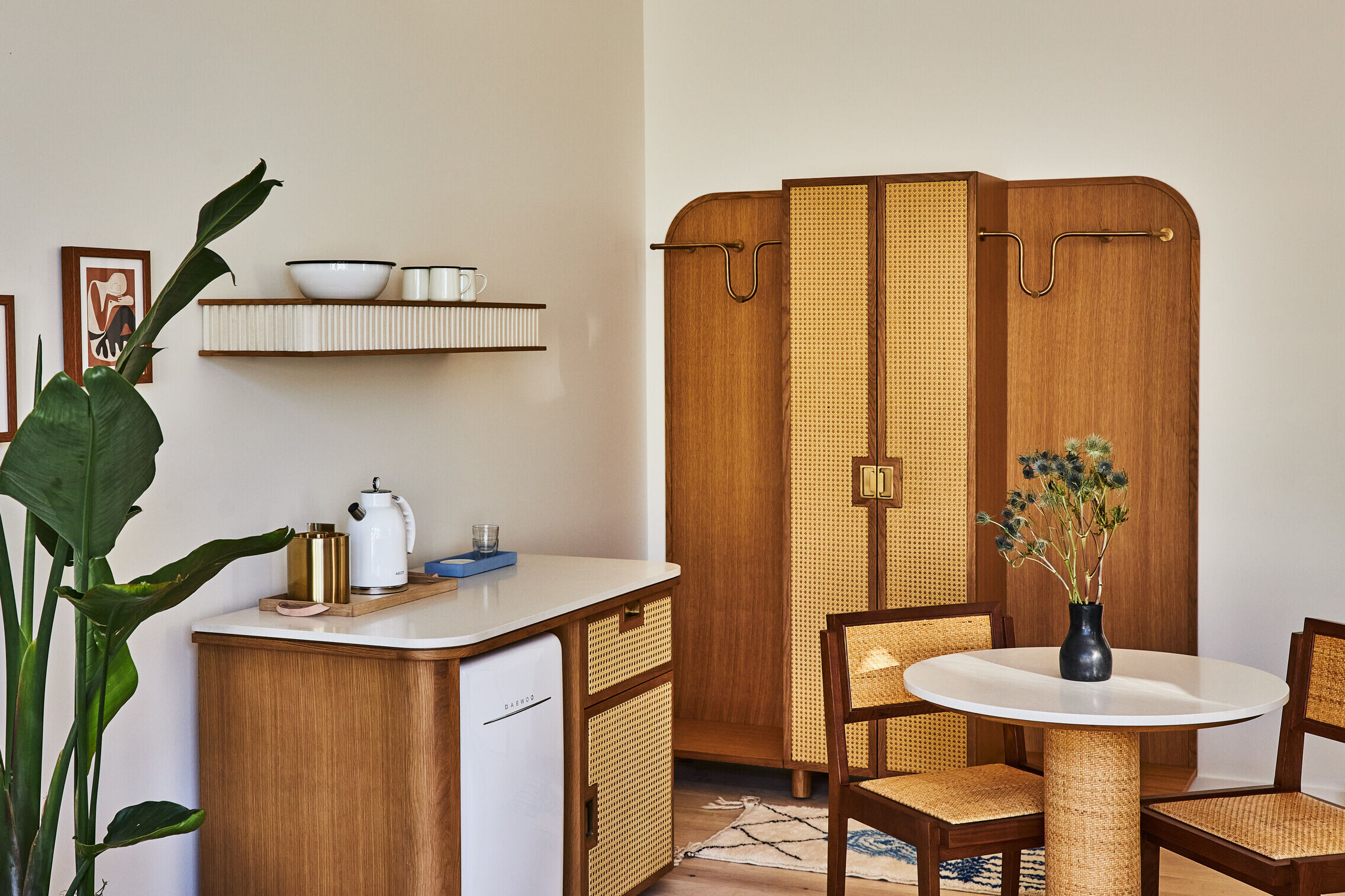 Pour ceux qui souhaitent travailler tout en s'amusant, la salle de réunion privée de l'Alsace LA, d'une superficie de 409 pieds carrés, est équipée d'une table de type salle de conférence de 12 places, d'une télévision HD à écran plat et d'un système audiovisuel de salle de conférence. En outre, l'hôtel s'associera avec son voisin, l'espace de coworking YOUBE, pour offrir aux clients des crédits et l'accès à un espace de travail pendant leur séjour.
Les réservations sont désormais ouvertes à l'Alsace LA, pour des réservations débutant le 20 septembre 2021. Les tarifs commencent à 199 $ par nuit. Alsace LA propose également une offre spéciale d'ouverture de 15 % sur son meilleur tarif disponible, avec surclassement gratuit des chambres selon la disponibilité et possibilité d'annulation flexible.
Matériaux utilisés :
Lobby / Stairwell
● Reception Desk: Custom. Rift cut white oak desk with brass and fluted glass details.
● Glass Pendant and Vertical Chandelier: Custom. Etched Amber Glass with Brass Accents
● Reception Table Lamp: Volta Large by Marta Bonilla. Hand-made Ceramic Base. Straw Shade.
● Reception Chair: Vintage. 19th Century Bidermeier Barrel Chair with Cane Seat.
● Stools: Custom. Solid oak base with Erica Shamrock's Terracotta Upholstery Fabric
● Tile Art: Custom site-specific hand painted mural on glazed ceramic tile, developed in collaboration with local LA artist, Lukas GeronimasGiniotis.
● Wood Table Lamps: Vintage Turned Wood Bases. Custom Pleated Linen Shade.
● Striped Textile Art: Piece by LA Tactile Sculptor, Molly Haynes
● Wavy Terracotta Vase: Handmade "Dandelion Stretch Vase" by LA sculptor, Morgan Peck
● Blue Vase: "Don't Forget to Stretch Vase" by LA Ceramicist, SarakKoik
● Checkered Display Platter under featured chandelier: "Scallop Platter" by LA sculptor, Morgan Peck
● Wood Door Push / Pull: Custom. Eased edge oak square with brass surround.
● Sofa: Custom Piece. Mohair Upholstery.
● Stone Coffee Table: Epic Coffee Table. Travertine. By Gubi.
● Lobby Runner: Custom Wool Rug. Handwoven by Moroccan Artisans.
● Stairwell Sconces: Custom. Fluted Amber Glass. Brass Accents.
● Circular Rug: Jute Woven Rug
● Floor: Rift Cut Medium Toned White Oak Planks
● Wall/Ceiling Wood at Niche: Rift Cut Light Toned White Oak Planks
● Trim & accents: Rift Cut Medium Toned White Oak & Glazed Ceramic Tile
● Walls & Ceiling: Portola Paint, Roman Clay - Full Circle
● Terracotta Wall at Niche & Stairwell: Portola Paint, Roman Clay - Cassidy
● Lobby Restroom Mirror: Custom. Redwood Frame. Lichen Green Lacquer. Integrated Tala Light Bulbs.
Meeting Room
● Area Rugs: Custom Wool Rugs. Handwoven by Moroccan Artisans.
● Conference Table: Custom. Rift Cut White Oak.
● Floor lamp: Custom. Etched Amber Glass with Brass Accents
● Table lamp: Vintage. Oak and Frosted Glass.
● Coffee Table: Vintage. Midcentury Vintage Modern Split Reed Pencil Round Drum.
● Chairs: Vintage. Reupholstered Bentwood Chairs
● Lounge Chairs: Stay Lounge Chair by Gubi.
● Tile at Niche: Terracotta Square Matte Tile
● Millwork: Rift Cut Light Toned White Oak Planks
● Walls & Ceiling: Portola Paint, Roman Clay - Full Circle
● Flooring: Poured White Concrete. Large Terracotta tiles at Entry - pulling courtyard materiality to interior
● Window Treatment: Linen Ripplefold Drape
● Photographs: Wild Burros Portraits by Pascal Shirley (LA based Photographer)
Courtyard
● Stools: EQ3, Earthenware Terracotta Bingo Stool
● Sofa: Kettle, Vimini Sofa
● Side Tables: Custom. Concrete tile top, metal base.
● Coffee Tables: Kettal, Vimini Garden Table.
● Lounge Chairs: Casa Design Group, Bubble Armchair
● Umbrellas: Kettle, Meteo Telescopic Parasol
● Flooring: Terracotta Square Paver & Gravel
Guest Rooms
● Bed: Custom. Rift Cut White Oak.
● Upholstered Headboard: Custom. Rift Cut White Oak. Fabric by Rebecca Atwood.
● Side Tables: Custom. Rift Cut White Oak. White Wash Oak.
● Bedside Sconce: Custom. Linen Shade. Rift Cut White Oak. Brass Accents.
● Bedside outlets & light controls: Celebrated brass knobs.
● Desk: Custom. Rift Cut White Oak. Bent brass armature.
● Bench: Custom. Rift Cut White Oak.
● Stool: Custom. Walnut. Upholstery with Erica Shamrock Fabric.
● Drapery: Ripplefold Blackout Drapery. Custom stitched ombre textile by Schumacher.
● Chair: Custom Oak with Rattan Seat and Back.
● Armoire: Custom. Rift Cut White Oak. Inset rattan details.
● Wavy Hook: Custom. Bent Brass.
● Area Rugs: Custom Wool Rugs. Handwoven by Moroccan Artisans.
● Terracotta Flush Mount: Custom. Ceramic Shade.
● Pendant: Ceramic Oriel Pendant by Justin Design Group
● Bathroom Sconce: Custom. Metal Mesh and Linen Shade. Brass Armature.
● Mirror: Custom. Baby Blue Lacquer to match shower tile.
● Cafe Table: Custom. Rattan, Rift Cut White Oak Base, White Stone Top, Brass details.
● Flooring: Rift Cut Medium Toned White Oak Planks
● Bathroom floor: checkered terra-cotta and white porcelain tile.
● Bathroom shower floor: Verde Marble Mosaic
● Bathroom shower wall: Zellige Ceramic Tile
● Breeze Block Screen: Celosia by Mutina. Terracotta Breeze Block.
● Room Light: Rich Brilliant Pastille Sconce. Custom Painted Rom Numbers.
● Corridor Carpet: VERS INOUT by Ege
Pool
● Sun Loungers: BarcelonetaSunlounge by Isimar
● Lounge Chairs: 745 Out by Adico
● Side tables: Dominquez Stool by Pfeifer Studio
● Umbrellas: Roman Valance Square Umbrella by Tuuci
● Sconces: House LED Wall sconce in Blue by Rich Brilliant Willing
● Flooring:Travertina Raw. Permeable Paver by Techo Bloc
● Pool Materials: Stucco Pool interior with checkered blue and black ceramic tiles at water line
● Walls: Warm White Stucco
● Tile As walls: Inset Zellige Tile at Doorways