Founded by Toronto-born entrepreneur Sim Bains, All Eyes on Me is a contemporary optometry company that defies expectations, offering hyper-premium eyewear and state-of-the-art clinical care delivered with service predicated on relationships. The third boutique located in Toronto's Yorkville neighbourhood is a spatial articulation of the brand's vision, as Bains summaries, "where luxury opulence meets contemporary streetwear."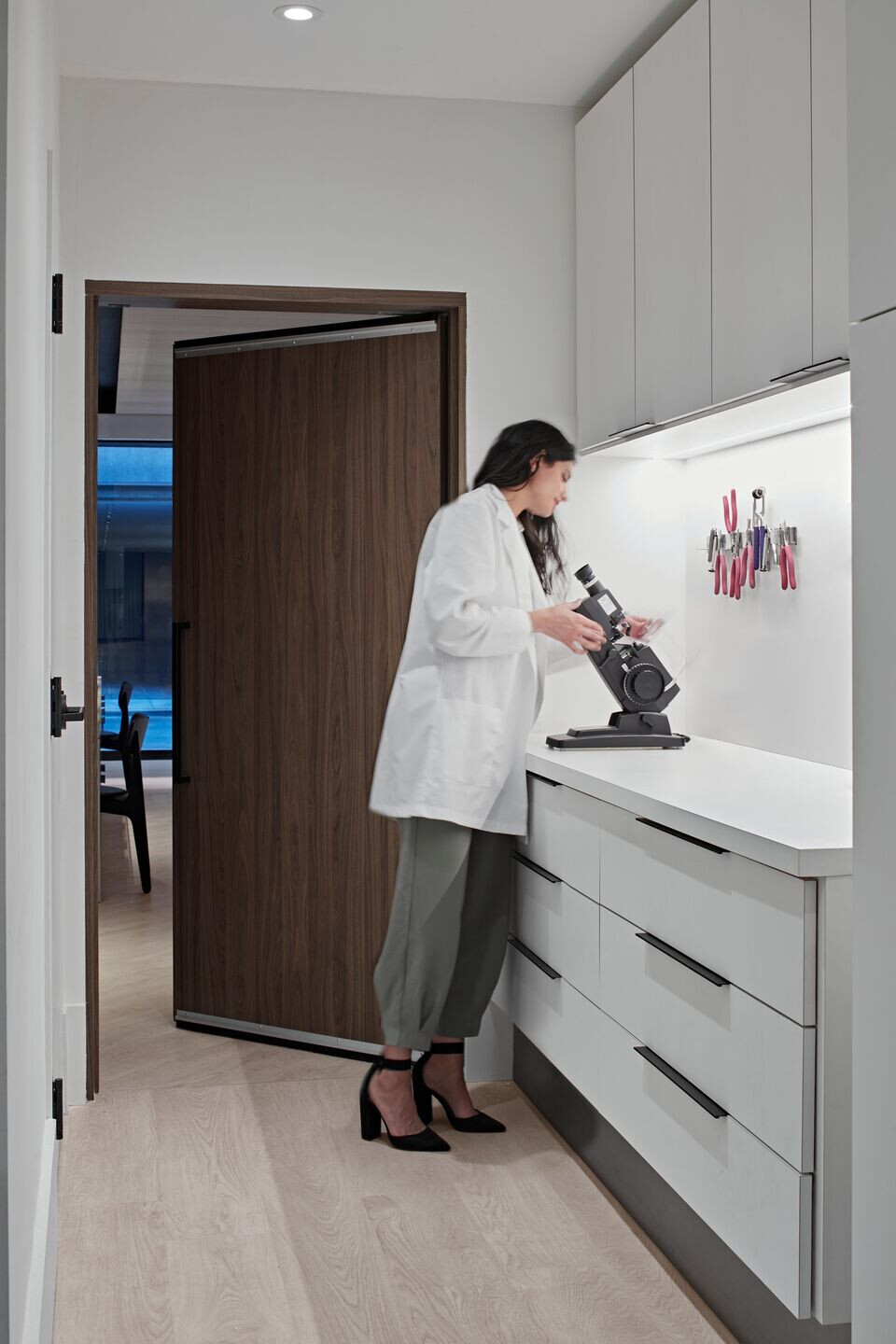 The design for All Eyes on Me samples and references cultural and artistic influences–bridging the gap between the old and the new to create a sensuous, personalized retail experience. Inspired by Bains's idiosyncratic mélange of influences (The Weeknd, a Prada handbag) and old world extravagance (Palais Garnier, Fin de siècle Paris) the resulting retail space is an expression of the streetwear-influenced evolution of high fashion.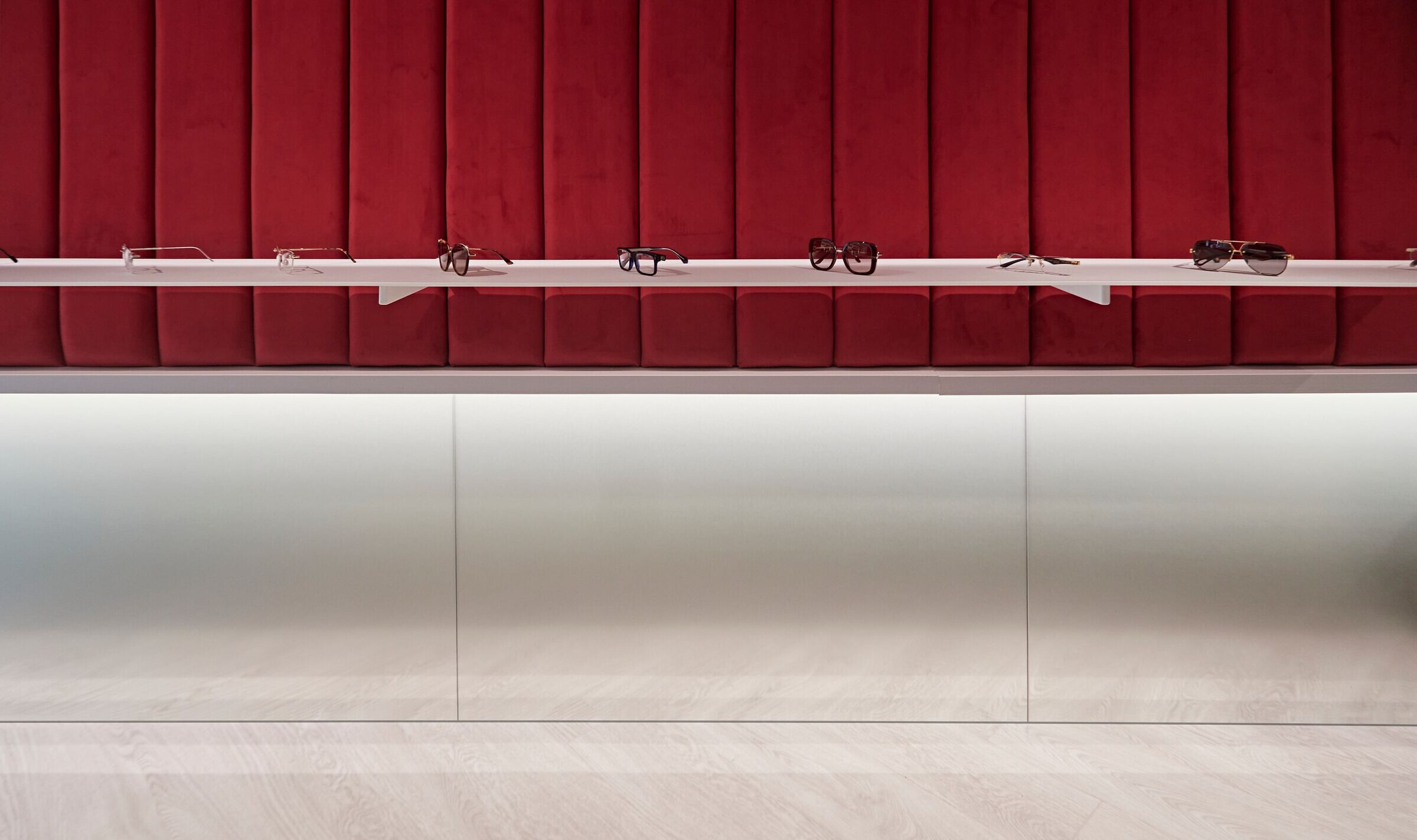 A Cartier jewellery box served as a starting point in the design process, manifesting in the luscious fabric-lined walls, presenting the frames with reverence typically reserved for gems. Affirming the importance of in-person retail, the 650-square-foot space is lined with floating white shelves that sit above light-washed acid-edge mirrors, adding a sense of levity and brightness to the dramatic scene. The display invites clients to touch, peruse, stay for an espresso, and try-on pieces. Off-white floors were chosen to emphasize a minimalist palette, scrapped white tiling chosen as a nod to 1980s excess.
Browsing and engaging with the pieces, the clientele is guided through the rectangular space, anchored by a lounge area at the back. Here, a muted point of sale doubles as a bar–Visas tapped next to bottles of premium spirits. Guests can sip on champagne or cognac (straight-up or on ice) while they kick-back on sculptural chairs, trying on custom-curated frames or consuming after hours. A drop-down custom screen covers the glass facade, adding a veil of privacy for exclusive viewings and private events.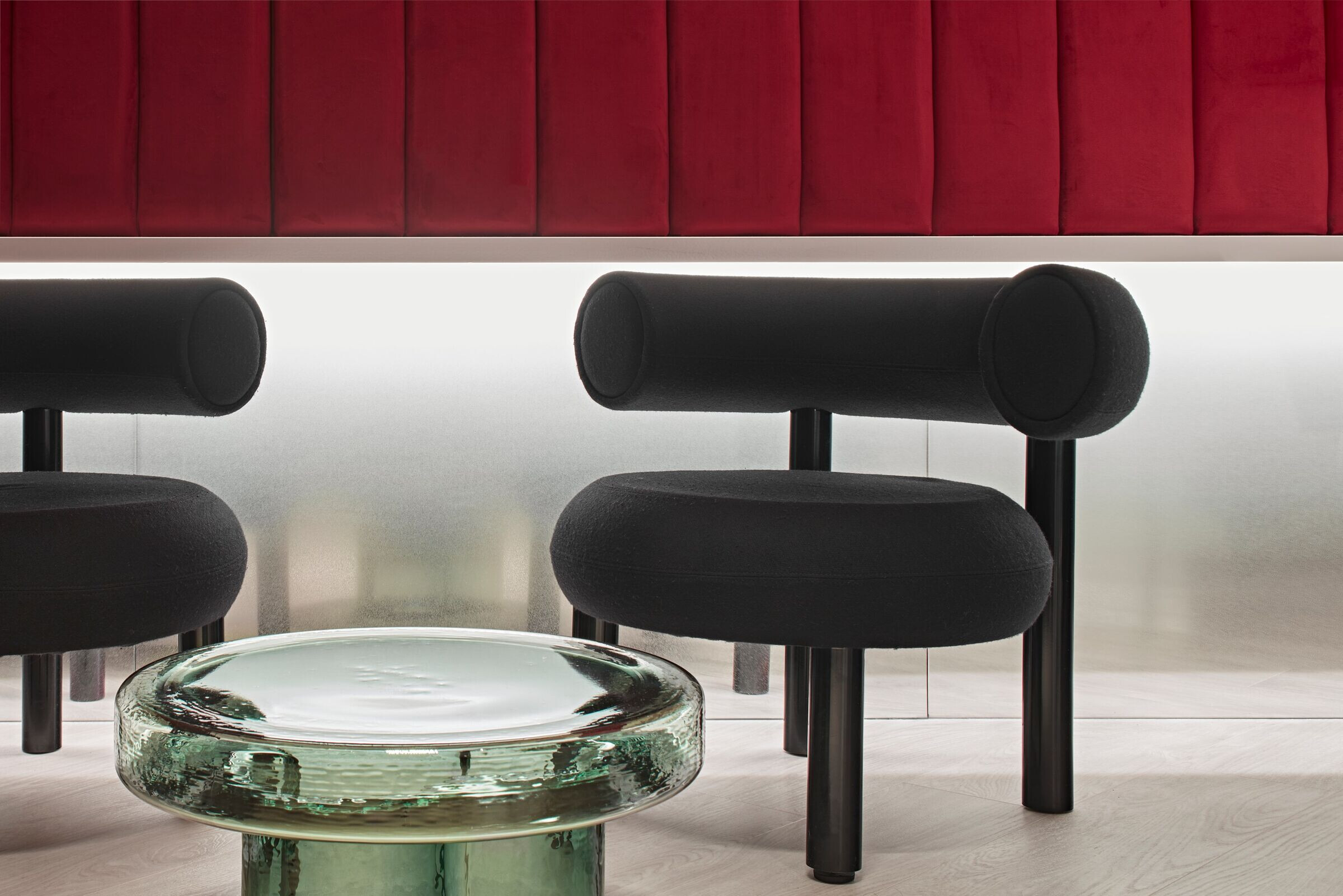 In contrast to the retail area, the hidden clinic rooms just behind the lounge are designed with the efficiency and utility of a lab coat in mind–finished in a crisp, all white aesthetic.
Simultaneously informed by über-luxury and Toronto's storied history of streetwear the space is unconcerned with precedents of retail architecture. Reflecting the cultural shift that has already taken place in luxury brands, the design rejects antiquated concepts of what and who belong in luxury making space for what's next.