Near the South Holland dunes a special house has been realized, which consists of a visible structure of laminated wooden columns, beams and floors. This structure is filled in with an open or closed filling; open with sun and view oriented sliding doors, closed with vertical larch parts. The wooden construction is visible inside and out, so that the rhythm of the structure can be felt throughout the house. All this according to a size ratio that has been worked out in detail, so that special and warm spaces have been created for the clients both inside and outside.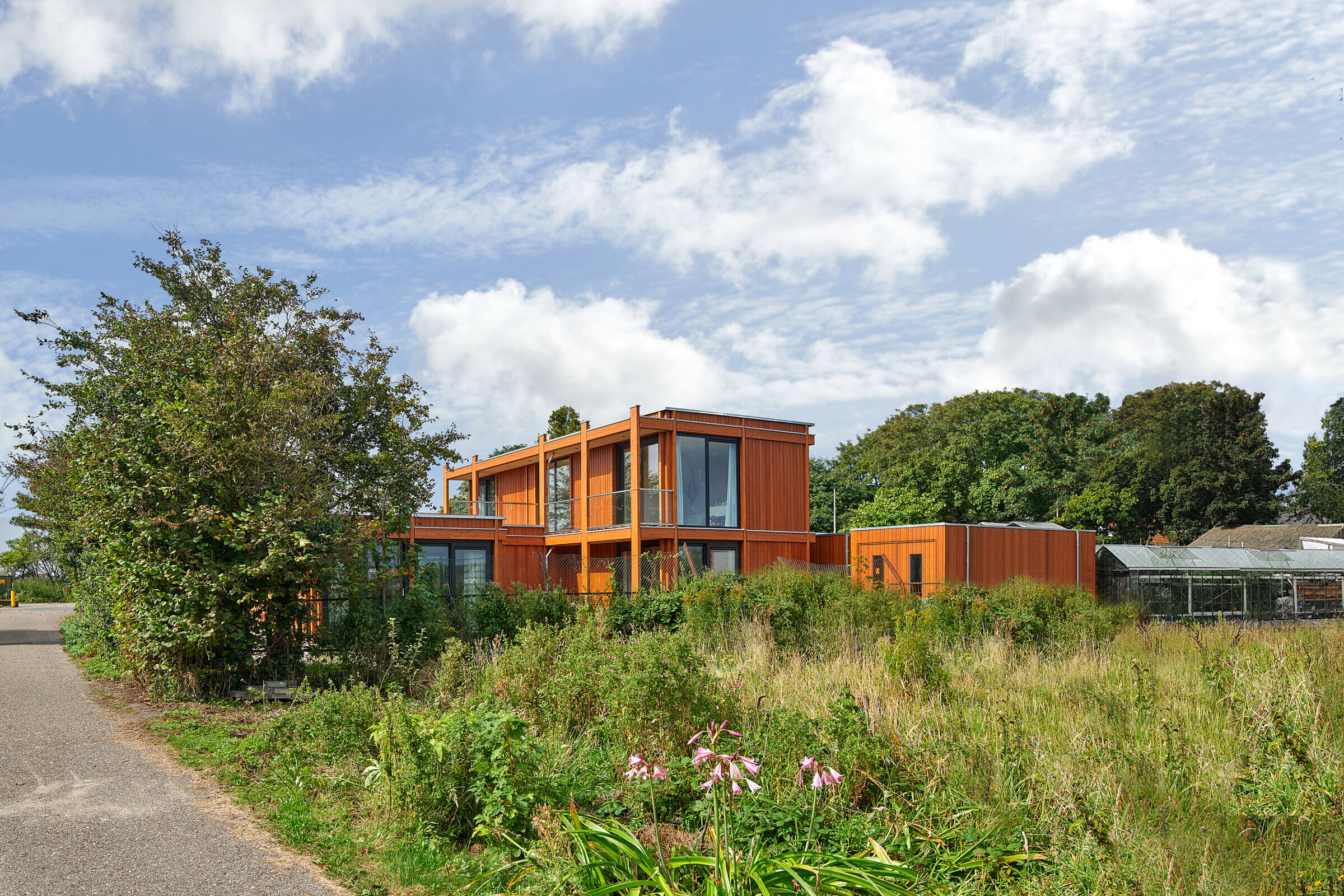 The clients managed to buy a beautiful plot on a small lane near the dunes in Monster. Everything was still open, from the location of the house on the lot to the building heights and access. The wish of the clients was to realize a house with real materials, connected to the environment. From there, the architects sought the fairest possible way of dealing with material, direction, sunlight and view. That came together in this design.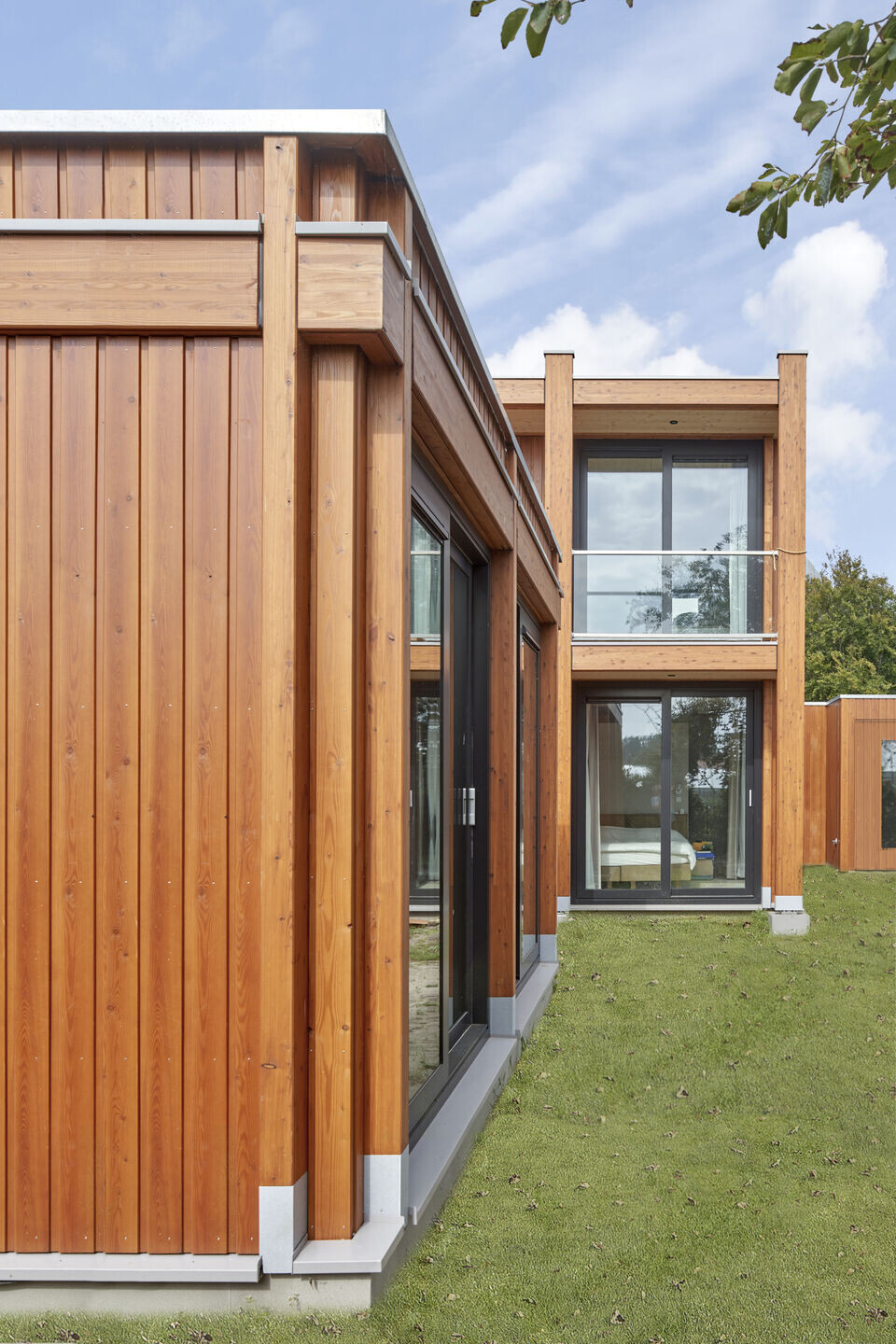 The design that was first presented is almost literally realized in this way. Ambitious choices such as a construction that forms the house, in which the surfaces of the facade are filled, were already visible in the first model. The difficulty therefore, partly due to the strict regulations in the Netherlands, was to keep such connections and details as pure as possible. A statement had to be made about every detail in order to realize a simple-looking design in a simple and clear manner.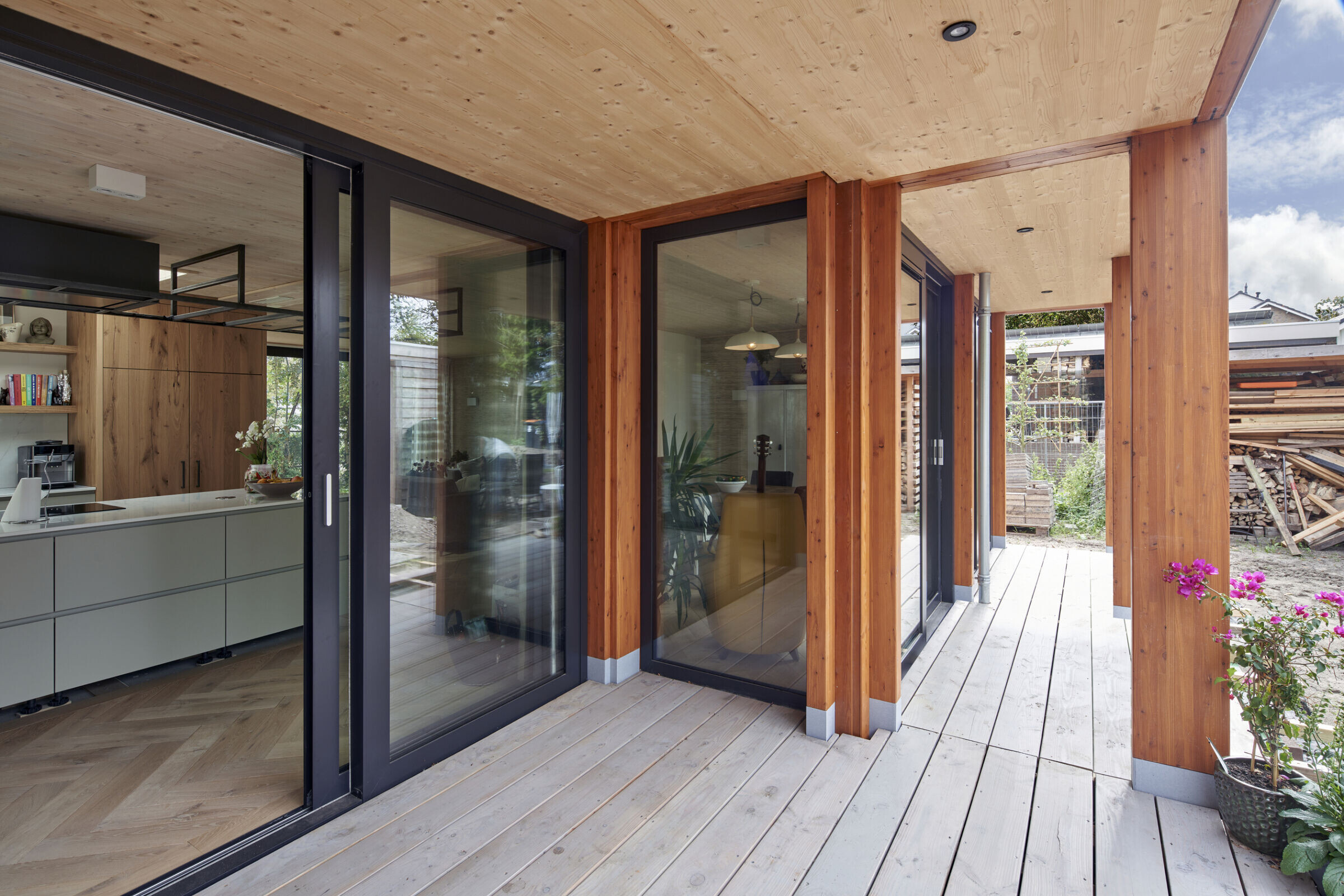 The spaces in the house are oriented towards certain views, directly to other spaces or to parts of the garden. There is a quiet room that is important to the clients, there is a rhythm in the transitions from entrance to kitchen to living room and all bedrooms have their own connection with the outside. The visible wooden construction and alternation of open and closed surfaces, including the wooden ceiling, create a calm and atmospheric experience.
The construction is prefabricated with laminated wood that allowed the structure of the house to be erected within days. The wood, made from Dutch larch, is glued in several layers, making it very strong. The walls against which the vertical parts are placed in the facade are made of a lighter timber frame, which could also be installed very quickly. As a result, in addition to a low weight, it was also possible to work with a minimum wall thickness, so that the columns remained clearly visible.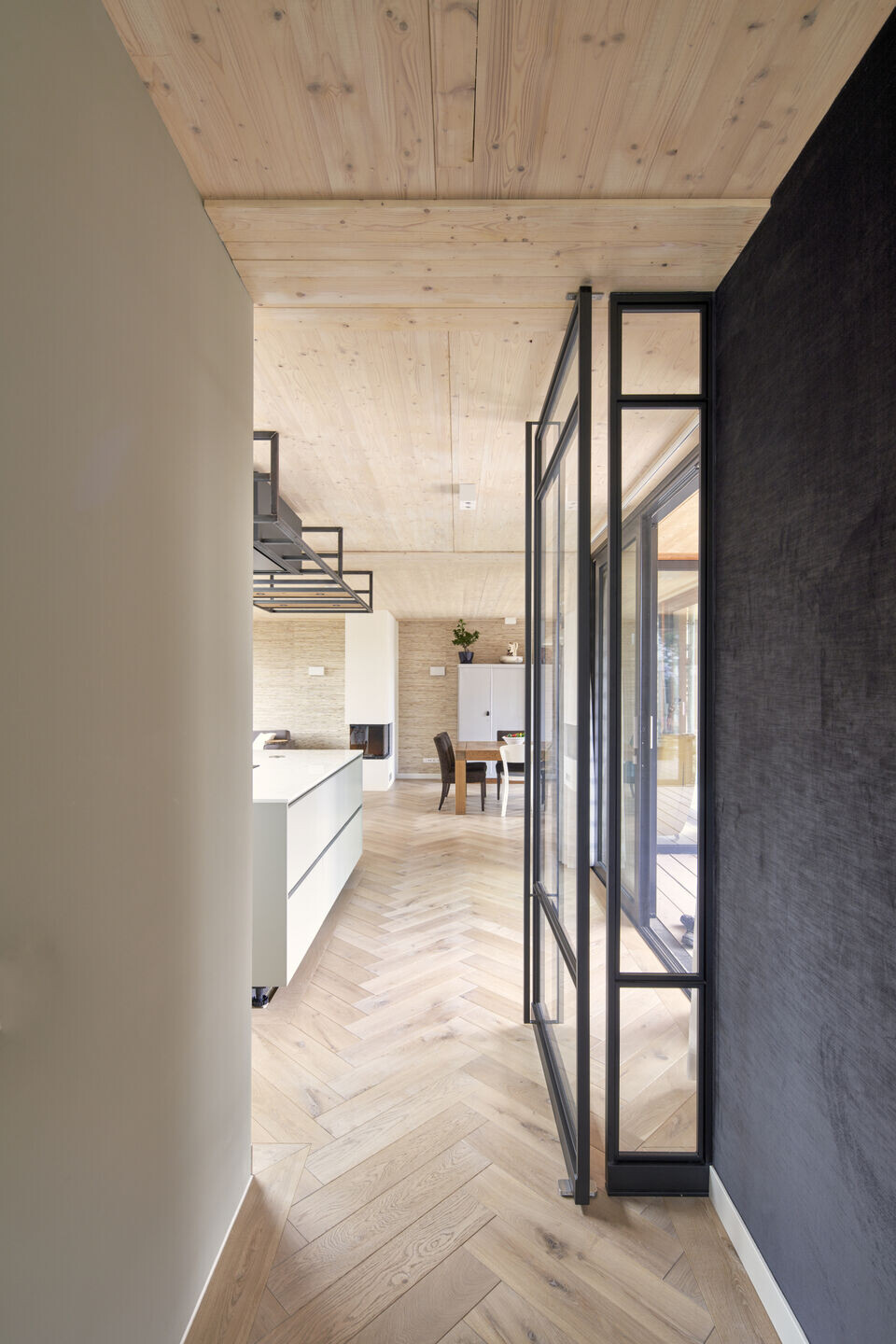 Sustainability is always a basis for the architects. The design speaks for itself with the smart use of wood, but this is also reflected in, for example, the green roof, the solar panels and the efficient installations.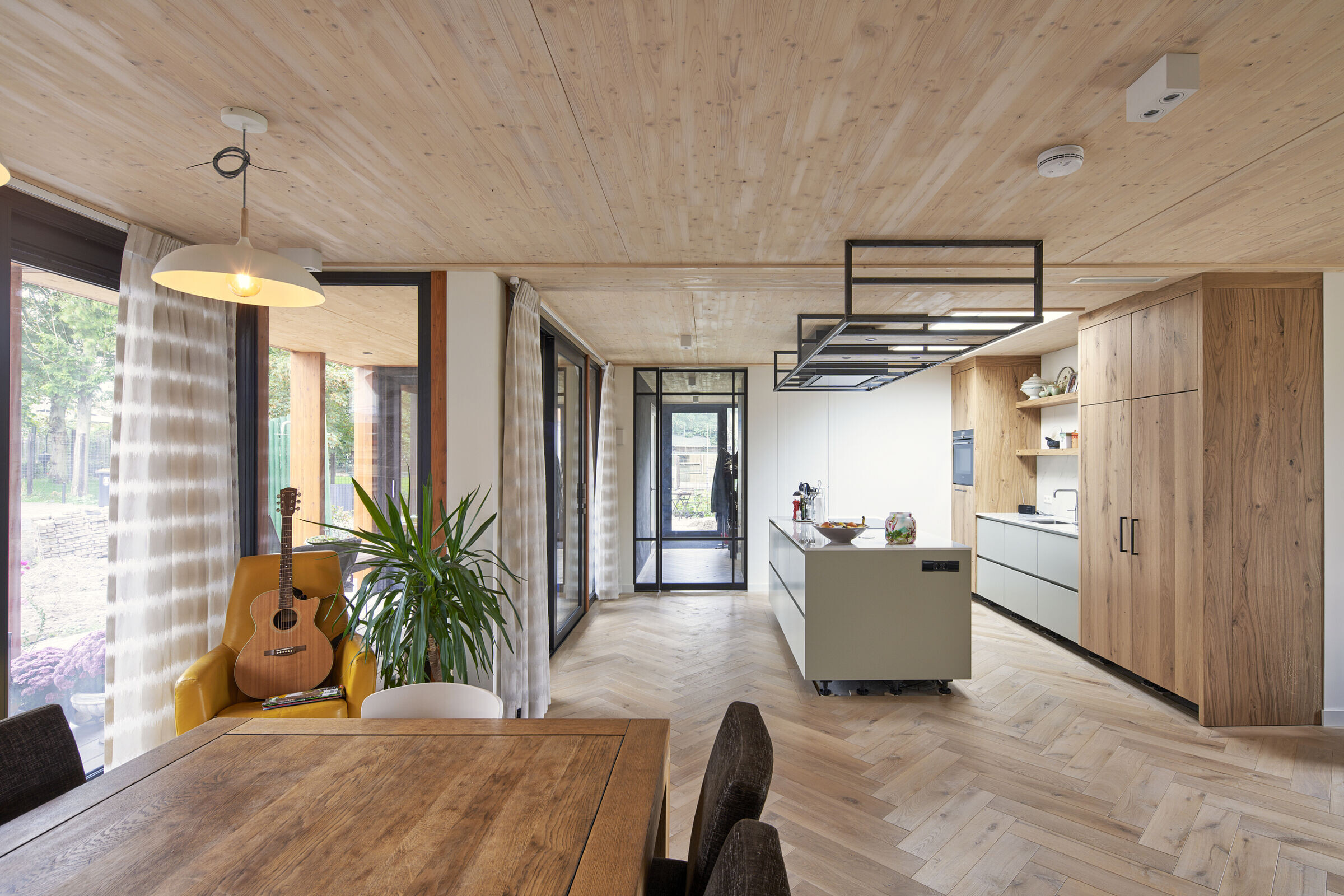 What connects the designs is the love for materials in to the detail, the play of light and sight and our passion for proportion and scale. All this results in the realization of the concept, down to the last detail.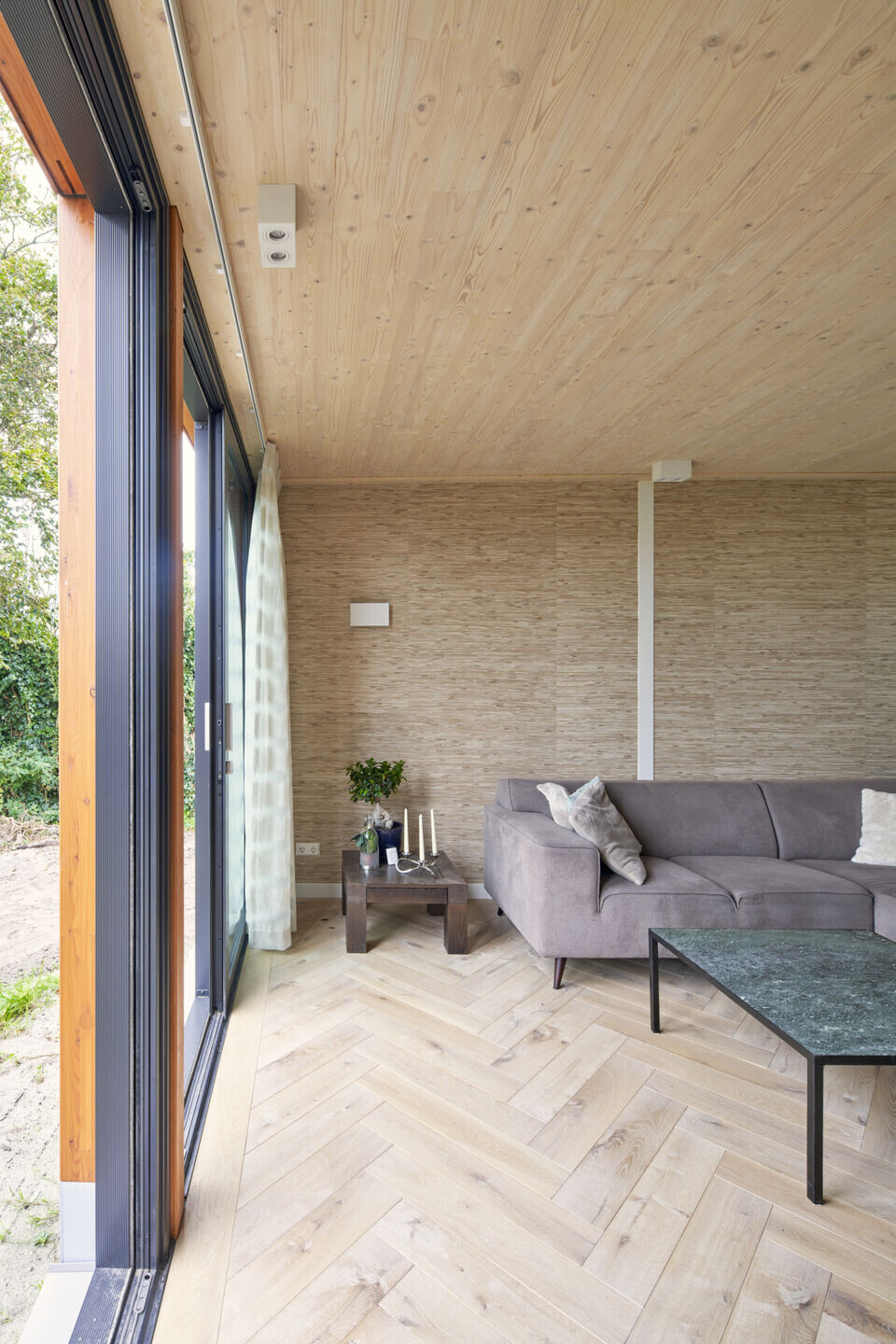 Material Used :
1. Chaosgroup: v-ray
2. Reynaers aluminium: CP155
3. de groot vroomshoop: CLT and lamminated wooden construction